Hope Solo's Fiancé Arrested for Fourth Degree Domestic Violence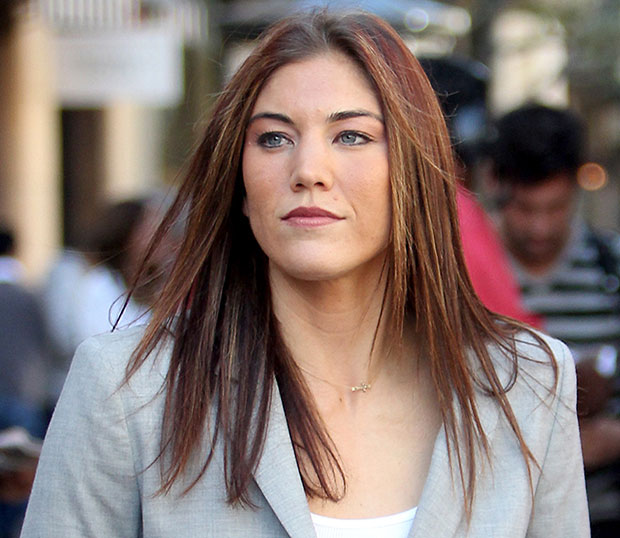 Tuesday didn't go exactly as planned for US Women's National soccer team goalie and Dancing With the Stars contestant Hope Solo. After applying for a marriage license with her boyfriend, Seattle Seahawks player Jerramy Stevens, on Thursday, the two were planning on tying the knot on Tuesday. However, Stevens instead spent the day in jail, after he was arrested on investigation of Assault 4th Degree Domestic Violence in Kirkland, Wash.
In a statement issued to Hollywood.com, the Kirkland Police Department says, "On November 12, 2012 at 3:45 a.m., Kirkland Police Department officers were dispatched a disturbance call at a residence … The call involved a physical altercation between eight persons during a party inside the home and the use of a stun gun."
According to the Kirkland Police, "Upon arrival, officers contacted several people at the residence who appeared to be intoxicated and were uncooperative as officers began their investigation. Officers found a 31 year old female suffering from a laceration to the elbow, a 32 year old female suffering from a hip injury, and a 34 year old male suffering from multiple bumps, scrapes and contusions."
The 31-year-old female has been identified as Solo.
The Kirkland City Jail tells Hollywood.com, "[Stevens] was released yesterday. Nothing was charged. He was released at court." While Stevens has yet to be charged, the police have forwarded the investigation to Kirkland's Family Violence Unit Detective for further investigation.
While Solo had a winning year on the soccer field (Go USA!), her name has been tied to controversy a number of times in the tabloids. A light was shined on Solo's less-than-happy family life when she released her autobiography Solo: A Memoir of Hope in August, and she made headlines again when Solo accused her DWTS partner Maksim Chmerkovskiy of abusing her in the dance studio.
Reporting by Lindsey DiMattina.
Follow Abbey Stone on Twitter @abbeystone
[Photo Credit: Josiah True/WENN]
More:
Hope Solo Accuses Her DWTS Partner Maksim Chmerkovskiy of Abuse
Team USA: Women's Soccer Team Snags the Gold and the Spotlight
Hope Solo Tests Positive for a Banned Substance
You Might Also Like:

Best Nude Scenes of 2012 — PICS

'Hunger Games: Catching Fire' First Look: The Quarter Quell Begins! — PICS