'Hunger Games" Jennifer Lawrence Wants to Punch Fitness Fanatics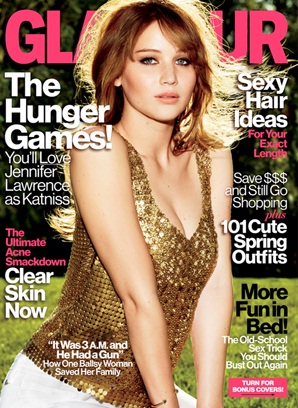 Rising star Jennifer Lawrence isn't exactly living up to the title of her blockbuster-in-the-making, The Hunger Games. According to an interview with Glamour, the actress affirms that she never diets.
"I don't diet. I do exercise! But I don't diet. You can't work when you're hungry, you know?" says the 21 year-old star. However, although she does make a point to exercise, she's not particularly a fan of the practice. "I hate saying, 'I like exercising.' I want to punch people who say that in the face." Okay, so perhaps, she has taken something away from The Hunger Games: the violence.
"But it's nice being in shape for a movie, because they basically do it all for you," Lawrence continues on the subject of keeping fit. "It's like, 'Here's your trainer. This is what you can eat.'" The actress doesn't give herself quite enough credit. Obviously, Lawrence managed to stay in shape for last month's Vanity Fair covers.
For years now, she has maintained enough discipline to keep herself from snacking—that is, when it comes to hotel minibars. But eventually, everyone has a breaking point: "Just recently I started letting myself eat things from the minibar. When we were kids, we would never open the minibar. A six dollar Snickers bar? But the other day I was in a hotel and I was staring at a Snickers bar, and I finally just ate it. Then it was like something in me snapped. I opened all these drinks. I thought: I can do it now. Now I'm all grown-up. I can eat things from the minibar." Wonder if she'll keep up the habit on
her Hunger Games mall tour
?
Lawrence expanded upon the changes in her life since reaching stardom. "The people who used to ignore me at parties, now they're nice to me and kissing my ass." 
As pleasant as the changes may be, however, they do come with an inherent risk factor—one Lawrence can't help but worry about from time to time: "I feel like I got a ticket to go to another planet and I'm moving there and there's no turning back, and I don't know if I'm going to like that other planet or have friends there. It's daunting." 
But risks are worth taking, the actress is sure—a far better alternative than letting your apprehensions keep you from doing anything exciting. Lawrence is glad that she has allowed herself this type of career and lifestyle, and is grateful to be a part of the sensation that is The Hunger Games. Lawrence says, "I wanted to make sure that when I said yes [to The Hunger Games], I wouldn't regret it. And I don't regret it. I would have said no because I was scared, and then I would have been that bitter actress telling my grandkids, 'I'm the one that turned it down.'"
To sum up, Lawrence expressed the immense gratitude she has for her new life and job, and all of the financial and personal benefits that come along with them: "I'm doing what I love, and then I get months and months of rest. I have a lot of money for a 21 year-old. I can't stand it when actors complain."