Inside the Golden Globe Parties: Six Secrets from Behind the Scenes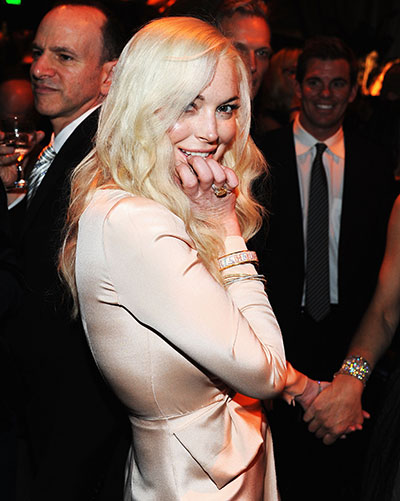 While the party begins at the Golden Globes, it's not until after the last award is handed out that the real antics begin. Everyone who is anyone in Hollywood leaves the awards dinner and heads upstairs at the Beverly Hills Hilton to hit a string of ultra exclusive after-parties. And on Sunday night, the parties really got going. Mel Gibson and Lucy Liu were spotted tearing up the dance floor at the HBO shindig; Al Roker gave Giada De Laurentiis a piggyback ride at the Warner Bros. party; and Heidi Klum chowed down on french fries at the Weinstein event.
The stars like to let loose and, occasionally, make fools of themselves. But, unfortunately for them, what happens at the Golden Globes after-parties doesn't stay at the Golden Globes after-parties. These are the secrets from past Globes parties that you probably have never heard before.
Six Golden Globe After-Party Secrets
1. Lindsay Lohan is a party crasher. In 2012, Lohan pulled a stunt and crashed the Weinstein party. "She was not invited. She just walked on in. Everyone was like, 'Oh my God, I can't believe she just walked in," a party-goer who saw the whole event go down tells Hollywood.com. "She just came through the back and they let her in." Security didn't realize that Lohan wasn't on the guest list. "The security, when they see who it is, they just let them in," the source says. "It's Lindsay Lohan. They're not going to say no. They're assuming she's invited." 
2. Certain actors like to hook up with journalists. "I've see a journalist go home with a celebrity," another insider tells us. "That tends to be a trend." And certain celebrity A-listers have a reputation as ladies' men. "You can spot the playboys," the insider says. "Wilmer Valderrama is known to be a playboy; Jeremy Piven is known to be a playboy; [and] Adrian Grenier, back in the day, he was known as a playboy.
3. Kate Bosworth and Alexander Skarsgard's put on a major PDA show. "It was when they were first starting to date and I wasn't sure if they had come out as a couple yet," the insider says. "Kate and Alexander were just going at in the main room. Not groping, but just hardcore making out." They were oblivious to the party around them. "They didn't care who was in front of them," the insider says. "They were just making out."
4. Ricky Gervais is pretty full of himself. "[One year] when he hosted, he held court. He had a table to himself and people were approaching him like he was the king," the insider says. "He wasn't leaving his table, people were going to him. He wasn't getting up." In not-so-surprising news, our insider adds, "He was kind of a d*ck."
5.The "rat-faced people of television" (as Amy Poehler and Tina Fey referred to themselves Sunday) party harder than movie actors. "When the caliber of celebrity is less, they tend to have more fun and let their hair down," the insider says. "You're going to find that the TV stars know how to party and have more fun than the big movie stars."
6. Where do people go for the after-after-party? Our insider says the party usually winds up at the Chateau Marmont. "The ones at the Hilton can get fun because people are already loose, but once you're out for that long anyway, most of them continue the night away," the insider says.
For the Oscars, our insider says it's a bit different and that people usually wind up going to an infamous after-party thrown each year by one particular agent who will remain unnamed. And it's at this party that people get really crazy. "[The agent has] a big party at his house in the hills, and you [have] to get a security code or a secret code to get in," the insider says. "I was there in 2008, and it was the sh*t. Everybody was there. Every big name was there in young Hollywood and not behaving."
Follow Lindsey on Twitter @LDiMat.
[Photo Credit: Stefanie Keenan/Getty Images for Chopard]
More:
Golden Globes: Celebs Share Their Best Moments Via Social Media — PICS
Golden Globes 2013: The 20 Best and Worst Dressed Stars of the Night
Golden Globes' Plunging Necklines: How Low Did They Go? — PICS

Craziest Celebrity Swimsuits (Celebuzz)