Jamie Lynn Spears Sings About 'Scared' Britney — VIDEO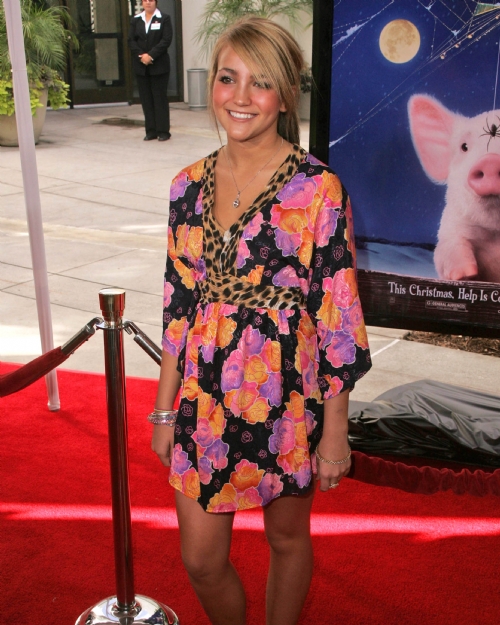 It's no secret pop icon Britney Spears has suffered her fair share of hardships. Even before she reached the tender age of 30, the singer had to cope with two divorces, two children delivered at a young age, one ill-advised reality show, one shaved head, countless paparazzi, one paparazzi confrontation captured on camera, and a tragic double denim attack. And since the singer's much-publicized 2007 breakdown, which led to a hospitalization in early 2008 and eventual conservatorship over her funds and decisions, we've heard very little about Spears' troubled past. Not that she needs to discuss it with her adoring fans — the singer, though merely a shell of the dynamic performer she used to be — has not only gotten her life back on track, but she's also about to burst onto the entertainment scene once again with a judging stint on this fall's The X Factor. 
But if appearing on reality television doesn't give unabashedly curious folks sufficient access into the singer's life, Spears' own sister,
Jamie Lynn Spears
, might. The 21-year-old singer, most famous for getting pregnant with her first child at 16 years old, debuted a new tune Thursday in Nashville, called "I Look Up To You." Prefacing the song with the admission, "You can imagine who I wrote it about," the young Spears launched into lyrics like, "Scared little girl … It happened way too soon / They took away your innocence."
Though Jamie Lynn doesn't refer to her older sister by name, fans and critics are pointing to the title and lyrics as proof that the singer is all but name-checking Spears. (Though the rest of the lyrics are so muddled, she could very well be singing about Annette in Cruel Intentions for all we know.) The elder Spears has yet to respond to Hollywood.com's request for comment, but it's a safe bet that Spears gave her younger sister her blessing to debut the song — and thus, if the tune is indeed about her, understood that it would lead media outlets to question what exactly Jamie Lynn is singing about. Fame? Something far more nefarious?  
Either way, Spears' supposed permission makes her appearance on X Factor all the more interesting — if she's welcoming fans this kind of access via her little sister, perhaps she won't be the scripted bot we were all expecting come fall.
Watch the video to listen to Jamie Lynn's new song. Because Spears didn't air enough dirty laundry on Chaotic.
Follow Kate on Twitter @HWKateWard
More:
Simon Cowell Dismisses Britney Spears Walk-Off Claims
X Factor and Britney Spears: Ushering In a New Era of Reality?
X Factor Adds Britney and Demi: Why It Could WorkBritney Spears