NBA Player Jason Collins Becomes First Openly Gay Active Male Athlete, Inspires Hope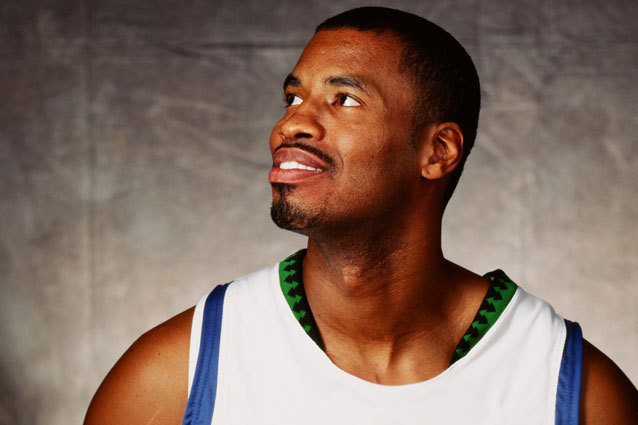 With two words, Jason Collins stepped out of the closet and into the history books on Monday: "I'm gay." Collins writes in an article for Sports Illustrated, "I didn't set out to be the first openly gay athlete playing in a major American team sport. But since I am, I'm happy to start the conversation." And we're so glad he did. 
Collins, 34, has played in the NBA for 12 years, most recently with the Washington Wizards, but on the cover of Sports Illustrated he is branded as simply "The Gay Athlete," a title Collins now wears with pride. As Collins explains in SI, however, this wasn't always the case.
"When I was younger I dated women. I even got engaged. I thought I had to live a certain way," Collins writes. "I thought I needed to marry a woman and raise kids with her. I kept telling myself the sky was red, but I always knew it was blue." 
Of his decision to come out, Collins says, "No one wants to live in fear. I've always been scared of saying the wrong thing. I don't sleep well. I never have. But each time I tell another person, I feel stronger and sleep a little more soundly."
While Collins' announcement has largely been met with a sense of excitement, support, and encouragement (with tweets of gratitude and support coming from the likes of Ellen DeGeneres and Kobe Bryant, among others), some have not been so accepting of Collins' news. ESPN analyst Chris Broussard most notably — and despicably— said live on a special edition ESPN's Outside the Lines, "If you're openly living in unrepentant sin, whatever it may be, not just homosexuality, [but] adultery, fornication, premarital sex between heterosexuals … I believe that's walking in open rebellion to God." 
Others, meanwhile, have raised eyebrows at the timing of Collins' announcement. Currently a free agent, Collins is looking to be signed again next year, and Nike has reportedly expressed interest in signing the first openly gay male athlete to a major endorsement deal. People are asking, Is Collins cashing in on his homosexuality? In an article titled "Be Happy for Jason Collins," Grantland writer Brian Phillips tackles this issue head on. "We have a tendency, or anyway I do, to skip past the important part of any given issue, which we usually grasp right away, and stake out positions on some knowing or contrarian periphery," Phillips writes. 
But Phillips urges readers and fans to resist falling back on their cynicism. "Some will surely taunt him; some will cheer him. Either way, he'll be out there," he writes. "And simply by being out there, he'll make it a little easier for another gay player to feel free to be himself, and a little easier for the world to accept him when he does." 
And that's the message Collins leaves us with as well. "Openness may not completely disarm prejudice, but it's a good place to start," he writes for SI. "The most you can do is stand up for what you believe in. I'm much happier since coming out to my friends and family. Being genuine and honest makes me happy."
Collins' honesty make us happy, too. Happy and hopeful for a culture in which a male athlete won't have to announce his sexual orientation on the cover of a national magazine. We're getting there. 
Follow Abbey On Twitter @AbbeyStone
More:
Four NFL Players May Come Out as Gay
Boxer Orlando Cruz is 'A Proud Gay Man'
'Time' Magazine Sexes Up Same Sex Marriege  
---
From Our Partners:


Beyonce Flaunts Bikini Bod for H&M (Celebuzz)


33 Child Stars: Where Are They Now? (Celebuzz)