Home
Celebrities
Jason Segel and Michelle Williams Split: Why Do We Care So Much?
Jason Segel and Michelle Williams Split: Why Do We Care So Much?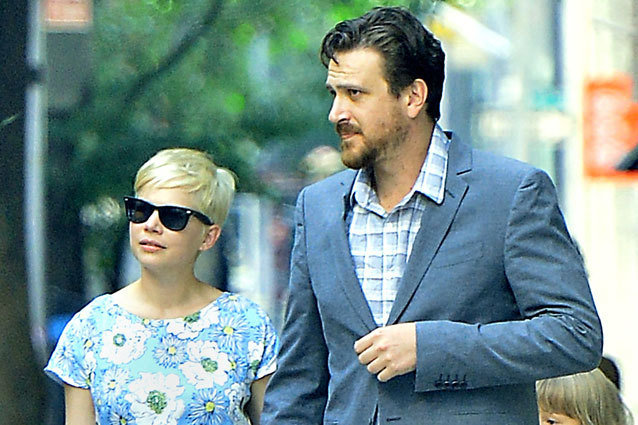 Prepare your best mourning flannel: Hipster couple from heaven Michelle Williams and Jason Segel have broken up. The pair split earlier this month, Us Weekly reports. The Oz the Great and Powerful actress, 32, and the How I Met Your Mother star, 33, apparently ended their relationship quietly after the long-distance thing proved to be too much (Williams lives in New York with daughter Matilda, 7, while Segel lives in Los Angeles, where HIMYM films). 
The first reaction I had to hearing this news? Instant sadness, akin to when comedy's First Couple, Will Arnett and Amy Poehler, announced their divorce. My heart was crushed, my soul was torn in two. I just wanted to curl up in a ball and eat chocolate, chugging wine until it was socially acceptable to go to sleep (so, like, 8:30 PM, right?). I imagine people all over felt the same way (admit it, you're crying right now, aren't you?).
RELATED: Amy Poehler and Will Arnett Split: How Can We Process This?
But my second reaction was a lot more sobering: Wait, why do I care so much? I have never met either of these people. I have no idea what they're truly like as human beings. Why in the world am I so invested in the love lives of two complete strangers? Sure, it's acceptable to feel some empathy for the heartbreak that two human beings are feeling right now, somewhere in the world, but why am I so emotionally affected by this news?
Oh yeah, that's right: because if these two seemingly perfect (both individually and for each other), gorgeous, amazing people can't find love, then what chance do the rest of us normal, lesser beings have?
Zero, in case you couldn't figure that out on your own. We stand no chance. If Jen Lindley and Marshall Erickson can't make it, then no one can. Commence chocolate eating and wine guzzling. I'll be under my desk if you need me.
Follow Sydney on Twitter: @SydneyBucksbaum
[Photo Credit: Sharpshooter Images/Splash News]
---
From Our Partners:


25 Most Scandalous Celeb Twitpics (Vh1)


33 Child Stars: Where Are They Now? (Celebuzz)