Jean-Claude Van Damme's Cheesiest PICS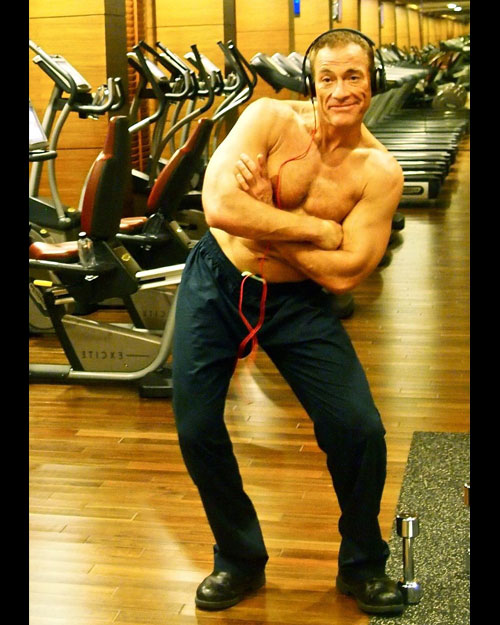 Does America have a favorite Belgian? It should. And if it can't be me, it should definitely, no-question be Jean-Claude Van Damme. Van Damme — also known in more bad ass circles as JCVD — has been in the game for ages. He's a martial artist turned action star from the same kooky country that's most beloved symbol is the Mannequin Pis. (And if you don't know what that is, do yourself a favor and Google Image Search it, NOW!) So, needless to say, it's not all waffles, chocolate there, flowers, and delicious beer there, though that certainly doesn't hurt.
In the late 80s and early 90s, JCVD was the cream of the crop. He was on top of the world and kicking everyone's ass into submission. I mean, he WAS the inspiration for the Mortal Kombat video game which is in a class in-and-of-itself when it comes to iconic video games. So say what you will, but the dude's got some chops.
But JCVD's career was a decidedly '80s-seeming affair until he came back to us in 2008 with the super-meta Belgian crime comedy-drama film JCVD about a down-and-out actor named (what else?), JCVD, whose family and career are crumbling around him as he is caught in the middle of a post office heist. Since then, his career has had a bit of a resurgence, resulting in his go in The Expendables franchise, as well as a voice in the adorably hilarious Kung-Fu Panda films. With the sequel out as of Friday the 17th, we felt it was time to remember the JCVD that we all fell for: the earnestly nutty but still somehow hilariously cool man that was also at a time considered the most bad ass dude on the block. Breathe it in, people. Bathe in the glory that is JCVD by taking a waltz through our gallery of the best of the best.
Click Here to Launch Our Gallery of the 10 Cheesiest Jean-Claude Van Damme Pictures You've Ever Seen In Your Life!
Follow Alicia on Twitter @alicialutes
More:
'Expendables 2': Jean-Claude Van Damme on His Perfectly Named Baddie — VIDEO
'Expendables 2' Cast: Who Is the Greatest Action Star?
'Expendables 2': Dolph Lundgren on Liam Hemsworth's Initiation — VIDEO