Jenni Rivera Plane Crash: Mexican Officials Say No Survivors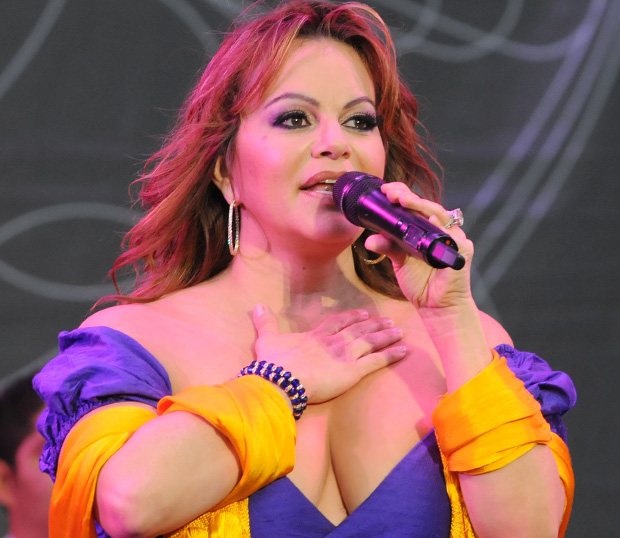 UPDATE: Rivera's brother Pedro Rivera Jr. tells E! that his family received confirmation Sunday that his sister had passed in the crash. "It's a devastation to the family," Rivera says. "We got confirmation that she was gone. It was so painful."
EARLIER: Just hours after Jenni Rivera's airplane took off Sunday — and went missing 10 minutes after take-off — the Latin singing and reality TV star is presumed dead, according to officials. Mexican authorities are confirming they found no survivors in discovered airline wreckage, leading many to report that Rivera is dead at 42 years old. Following a plane crash in Monterrey, Mexico, Gerardo Ruiz Esparza, the Mexican Transportation and Communications Minister, explained that authorities found scattered remains of the aircraft shuttling Rivera and six others to Toluca, Mexico early Sunday morning. Esparza explained that while the aircraft cannot be positively identified yet, "everything points towards" this being the plane, according to a report from The Associated Press. While it is believed there were no survivors, officials explained that the level of destruction is making it difficult to collect physical evidence.
"There is nothing recognizable, neither material nor human in the wreckage," Ruiz Esparza told the Mexico-based Televisa Network.
California native Rivera has had a wildly popular career as a singer and reality-television star and has sold over 20 million albums worldwide in addition to her mun2 reality series I Love Jenni. It is being reported that the series had been filming its third season prior to the crash.
Rivera was nicknamed the "Diva de la Banda" and was beloved by fans in the US and Mexico for her songs "De Contrabando" and "La Gran Senora." In addition to her popular songs, Rivera also recently won two Billboard Mexican Music Awards: Female Artist of the Year and Banda Album of the Year for "Joyas Prestadas: Banda." Rivera has been nominated multiple times by Billboard and other outlets for her work.
In a statement from mun2 and Telemundo Media, the network confirms Rivera's involvement with the accident, explaining that she "was on the private plane that went down in Galena, Nueva Leon, Mexico early this morning. Our thoughts and prayers are with the entire Rivera family and the families of her team, as we await for details and official confirmation from the authorities on this tragic accident." The network also mentioned that they would be honoring Rivera with a two-hour prime time special at 7 p.m. EST, coast to coast.
The news comes only four days after Deadline reported that Rivera had just closed a deal to star in her own multi-camera family comedy sitcom for ABC, appropriately-titled Jenni. The project was to star Rivera as a strong, middle-class, Latina woman working hard to raise a family that involves a bevy of extended, co-dependent relatives while attempting to keep the family business afloat.
[Photo Credit: Tammie Arroyo/AP Photo]
Follow Alicia on Twitter @alicialutes
More:
Jenni Rivera Missing After Plane Disappears — REPORT
Jenni Rivera Presumed Dead: Celebrity Friends and Fans Pay Tribute on Twitter

Kim Kardashians Best Bikini Moments (PHOTOS)

Brooke Mueller Overdose? Rep Speaks About New Drama For Charlie Sheen's Ex