Jeremy Renner's Going to Be a Dad, According to Ridiculous Gossip Item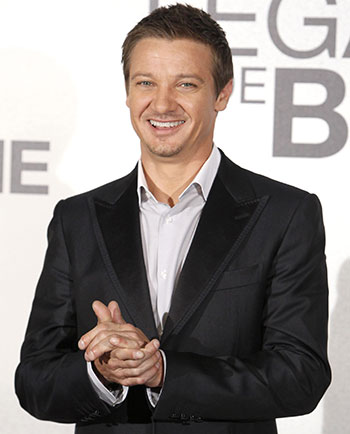 Oh, Hollywood gossip. What a thing you are! What a perfectly bizarre little beast. Filled with misinformation, anonymous sources, and ridiculous circumstances, it's no wonder Jeremy Renner has gotten himself trapped in its talons. It was only a matter of time — so sorry, dude. That said, at least his news comes from a good place: according to Us Magazine, our little friend Hawkeye is going to be a dad! But as far as the story goes, this is about all that makes sense. Hollywood.com has reached out for comment, but had yet to hear back at the time of publication.
You see, in one of the most loop-de-loop tales around, Renner's personal life has taken on that of a zany family sitcom; no doubt an unfortunate development for the notoriously-private actor. The story's sources explain that Renner told Eva Longoria (of all people) that an ex-girlfriend of his — something that was, apparently, "nothing serious" — is eight months pregnant with Renner's child. This elusive ex should not be confused with Renner's previous longterm girlfriend, actress Jess Macallan, as she has married since the couple's split in 2010.
The story goes — or so we're told — like this: Like, OMG, Renner was totally just chillin' at this way-swank Hollywood party (how insidery of him!) with his hot A-lister pal, Longoria. They were probably, you know, sipping on Crystal and laughing at how some people have to actually go to the store and make what they're going to eat — plebes, the lot of 'em! — or something equally thrilling and engaging (you know how those glitzy actor types are). They were totally smoking some limited edition diamond-encrusted cigarettes or something just as glamorous — because, duh, this is LA — after the Golden Globes when he casually mentioned that he was going to bless the world with his offspring. Two anonymous witnesses (is there any other kind?) allegedly told Us that Renner was overheard (overhearing things is so totally the only way to get real information, duh) saying to Longoria between puffs on his diamond-and-platinum tobacco stick that he was "going to fly in when her water breaks." We're really glad that some people, instead of enjoying the fancypants parties they're at, troll the smoking section for interesting life news they can later extort for personal gain. And partial interesting life news, at that, because the sources totally provided context to Renner's quote that showed a) he is serious and not joking and b) the child in question is his. Show, business!
Us goes on to extoll the virtues of Renner's "Hollywood hunk" status and how he is apparently "being ultra-secretive about it." It, of course, being the pregnancy. Which is funny, since, you know, two totally anonymous eye-witnesses were able to overhear his conversation and then report it to the media. Very secretive indeed! But not so secret that a couple of nosy eavesdroppers couldn't sell the juciest bits. Unfortunately for Renner, this is just another chapter in his personal lifecapades, as he's previously had to shoot down rumors regarding whether his sexual proclivities favored men or women. For what it's worth, I heard that Renner's real plans are actually to start an elephant acting school (for elephants, natch) in order to replace the world's actor population with giant wild animals (which is a thing I heard an anonymous witness telling a pigeon on the street this morning).
What do you think of Renner's baby news? Do you think the anonymous sources got it right? Let us know in the comments!
[Photo Credit: GTRES/FameFlynet Pictures]
Follow Alicia on Twitter @alicialutes
More:
It's Happening! Kim Kardashian Is Pregnant with Kanye West's Baby
Evan Rachel Wood Is Pregnant: 'I'm Gonna Be a Mama'
Jessica Simpson Is Pregnant! Confirms Rumors with Photo

Craziest Celebrity Swimsuits (Celebuzz)