Jessica Simpson: Queen of the Overshare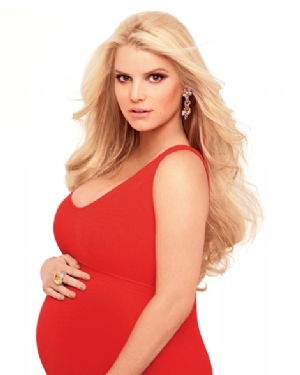 Jessica Simpson has always been very open about her life, and that's a big part of why she's so popular. After all, what fun is it when a celebrity answers every juicy question with "no comment" and refuses to talk about anything but their next project?
Jessica is pretty much the exact opposite. In fact, just yesterday the pregnant Fashion Star judge was broadcasting some extremely personal information on Ryan Seacrest's radio show. She said of her sex life, "I'm definitely feeling 'intimate.' I'm kind of unstoppable at the moment," adding, "Like the big 'O' is like the biggest 'O' ever." And as if that isn't enough, Jess can currently be seen doing a nude Demi Moore pose on the cover of Elle.
This certainly isn't the first time that Jessica's been a little too forthcoming. Here's a look back at her biggest TMI moments:
Jessica on Her First Date with Tony Romo
Apparently Newlyweds, the reality show Jessica did with ex-husband Nick Lachey, didn't teach her not to air her dirty (and smelly) laundry in public. In May 2008, Jessica gushed to Glamour about her new relationship with quarterback Tony Romo, revealing that he'd be harboring a massive crush on her and tried to kiss her 10 minutes into their first dinner. It seems the feeling was mutual, because Jessica said she was so nervous she "wanted to puke in the cup holder," and referred to Romo as her "future husband" during the interview. Oops!
Jessica on Her Boyfriend Criteria
Are you strong enough to be her man? It depends on how good your sense of smell is. Jess told People in September 2008, "To be my man, you have to put up with a lot. I toot under the sheets, I spend a lot of money and I can belch the ABC's."
Jessica on Wearing Sensible Work Attire
In February 2009, Jessica declared on stage, "I've had times when my pants split right down the middle when I bent down to reach a note. That's why I'm wearing a skort — not a skirt, not a short — just so they wouldn't split."
Jessica on Oral Hygiene
… Or lack thereof. "I don't brush my teeth," said Jess in March 2010. "No, really! I just use Listerine — and sometimes I'll use my sweater. I do brush every now and again, but my teeth are extremely powerful."
Jessica on Haircare
In April 2010, Jessica shared a beauty secret with Marie Claire: "I'll usually wash my hair and let it air dry wavy, but if I'm just in a hang-out mood, I won't even wash it. I'll wait until it smells."
Jessica on PDA
Always a "do." In August 2010 Jessica Tweeted a photo of herself sharing a liplock with new beau Eric Johnson. "Romance 101..getting kissed by my Yalie," wrote Jessica. "Me not lookin' so smart…:) but YUM!"
Jessica on the Toilet
The invention of Twitter enabled Jessica to overshare 24/7 — even when using the bathroom. In October 2011, she shared a photo of her feet dangling while she sat on a toilet at Bergdorf Goodman. "Short girl problems," she explained.
Jessica on Farting
Jessica has always been willing to gab about her gas, and having a bun in the oven made her even more prolific. In November she Tweeted the fact, "The average person expels flatulence 15 times each day!" and added, "The average pregnant woman farts 15 times that!"
Jessica on Morning Sickness
In January, Jessica told Extra, "Everybody comes up to me and asks me, 'How's the nausea?' and I'm like, 'I don't have any!'" However, she added that she's, "definitely eating a lot of Tums — I have the reflux and acid going on." Okay, that's sort of gross, but it's still sad that the world was deprived of details on Jessica's barf.
Source: L.A. Times