John Mayer's New Song Reportedly About Jennifer Aniston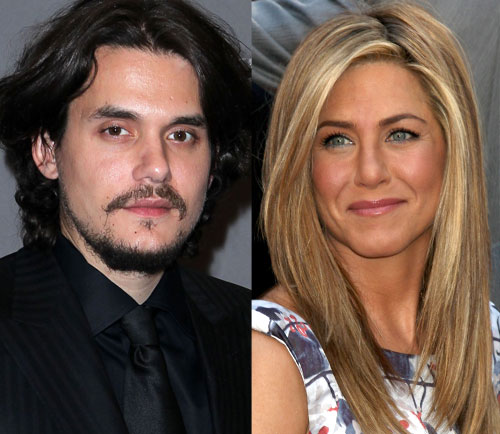 Being John Mayer's ex-girlfriend must be an unnerving thing. (One of you might know the feeling all too well, as roughly one in every five women has dated the rocker.) You can either cause the singer to go on a verbal free-for-all with Playboy magazine or be the inspiration of a lovelorn pop song. Lucky for Jennifer Aniston, it looks as though she might fall into the latter category, for now. (Sorry, Jessica Simpson.)
US Weekly is reporting that Mayer's latest single, "Shadow Days," is not about shadowing Johnny Depp's hair, but rather his love for the actress with whom he he had an on-again, off-again relationship. A source told the magazine that "He wrote the song as a farewell letter knowing [Jen] would hear it. Ultimately he's done a lot of self reflection though and it he realizes they weren't right for each other." The unnamed source also stated, "It really took him a long time to get over her. He really loved her a lot."
The song, which features such John Mayer-y lyrics as "I'm a good man with a good heart/Had a tough time, got a rough start/And I finally learned to let it go," isn't the first one that's been pegged to Aniston. (Nor will it likely be the last, as long as tabloids have their way.) In 2010, it was rumored that his song "Heartbreak Warfare" was about the star, but Mayer set the record straight telling none other than Playboy, "That woman would never use heartbreak warfare. That woman was the most communicative, sweetest, kindest person."
But Mayer isn't the only artist who has been rumored to write songs about his exes. (His hit "Your Body is a Wonderland" was said to be about Jennifer Love Hewitt, but the Grammy winner confirmed during his VH1 Storytellers special that it was about his first girlfriend.) Here are some others who supposedly penned lyrics about famous former flames:
– Taylor Swift might be just as deadly to date as John Mayer as far as being on the receiving end of one of their songs. The songstress has been rumored to write music about her exes Joe Jonas, Taylor Lautner, Jake Gyllenhaal, and you guessed it, John Mayer.
– Selena Gomez reportedly unleashed on a Jonas Brother too. This time, however, it was Nick Jonas who was the inspiration for her tune "Bang Bang Bang."
– Katy Perry reportedly vented her frustration over her split from ex-husband Russell Brand on the track "Part of Me." (Can she maybe write a song on all our behalves about Arthur?)
– Justin Timberlake's "Cry Me A River" is widely speculated to be about Britney Spears. Meanwhile, Spears' other ex Kevin Federline's song "Popo Zau" is widely speculated to be complete and total nonsense.
– Alanis Morissette's scathing breakup anthem "You Oughta Know" is apparently about Full House star Dave Coulier. Oh, Joey, how could you?!
– Carly Simon's classic "You're So Vain" is one of the most mysterious breakup songs in music history. Everyone from Warren Beatty to David Bowie have been the rumored muse for the track.