It's Official: The Internet is Obsessed With Jon Hamm's Penis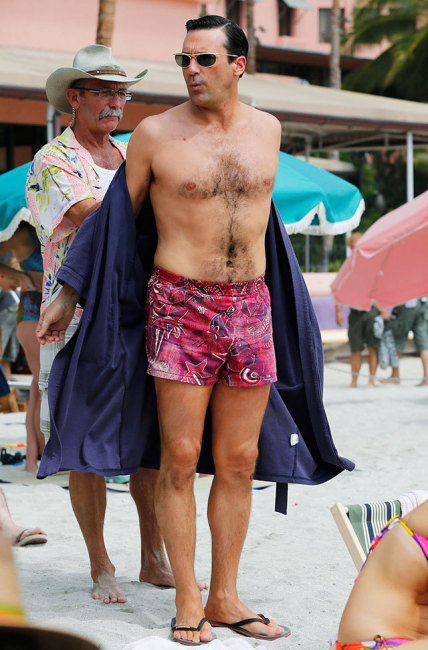 Jon Hamm is a man. Therefore, by reasonable forms of logic, Jon Hamm also has a penis. Jon Hamm also allegedly likes to go commando. By more reasonable forms of logic, that means sometimes the presence of said penis is not only inherently known, but visually known as well. Naturally, this means it merits major coverage every time Hamm dons some khakis or a pair of short shorts. Naturally. 
RELATED: Jon Hamm Smolders in New 'Mad Men' Pics
Its most recent outing was reportedly on the set of Mad Men, where the member caused such a storm that, apparently, AMC had to ask that Hamm keep it in his pouch, or some pouch or underwear of any kind. According to the New York Daily News, Hamm's "impressive anatomy" is such a problem and '60s-style pants are so tight, a staffer had to ask him to please stuff his staff in some tighty whiteys. It's reportedly such an "impressive" problem that the promotional materials had to be Photoshopped so as not to broadcast the magnificence of Hamm's trouser snake. 
But it's not the first time his swizzle has caused a stir. Last year, Hamm strolled down a New York City street with girlfriend Jennifer Westfeldt and the Internet had a field day. If you looked closely at the paparazzi photos, the distinct outline of Hamm's package was visible and the Internet went wild. The notable appendage even has its own social media pages on Facebook and Twitter (@JonsHamm, if you're curious). Our parents must be so proud. 
RELATED: Who's Hand is Jon Hamm Holding in this 'Mad Men' Poster?
Still, there is a positive element in all this: If we're ogling Hamm's littler Hamm, it levels the playing field. We, as a society, love to point out the presence of sideboob and the lack of a bra on any starlet whose misfortune it is to wander in front of a photographer's camera. The boob talk is an age old practice, serving to reverse the equally old saying "My eyes are up here." Granted, the penis is a sex object moreso than a woman's breasts, which most clothing is meant to show off, which is why it feels slightly more unseamly to ooh and ahh over Hamm's penis and its ever-present nature. Which is why I'm offering this suggestion: Maybe we can try a little harder to keep it in our pants. 
RELATED: 'Mad Men' Season 6 Spoilers (That We Totally Made Up)
Ogling is unavoidable. If Hamm choses to wear tight pants without an underwear barrier, we're going to see what he's packing and we're going to be forced to appreciate it, just as we're forced to appreciate the wondrous existence of Christina Hendricks' impeccable bosom in every dress she ever wears. (The universe is a wonderful place, after all.) But do we have to talk at length about it? Can't we just take it for what it is and move on? Isn't the whole appeal of the subject (male and female assets) the visual delight?
Follow Kelsea on Twitter @KelseaStahler
[Photo Credit: Spash News]
---
You Might Also Like:


15 Oscar-Winning Nude Scenes


Young Jack Black Is Totally Unrecognizable