Justin Bieber Gets Another Obnoxious Car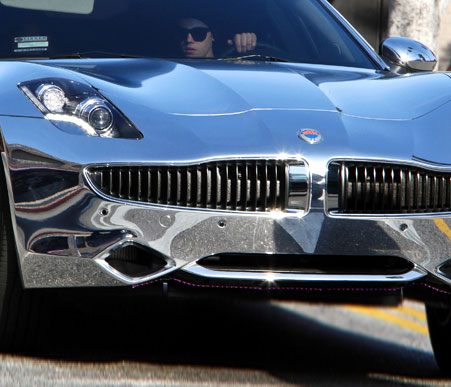 If you give an 18-year-old guy more money than he can spend, what will he buy? Obviously sports cars are at the top of the list, but when you're Justin Bieber any old $100,000 car won't do. That's why the Bieb has tricked out his Fisker Karma, and why there's a good chance that he'll be getting a ticket.
Bieber's car is coated in reflective paint sure to annoy other drivers, but according to TMZ that's totally legal. Surprisingly, it's the little fuchsia lights under the front grill that are likely to get him in trouble. Law enforcement sources say that in California front-facing lights can only be white and amber. Plus, the paparazzi-deflecting tint on Bieber's windows is a bit too dark.
Amazingly, Bieber's chrome cruiser isn't the most ridiculous celebrity ride in L.A. Here are a few other stars who have him beat:
5. Chris Brown's Lamborghini Gallardo
The singer painted the outside of his car to look like the F-86 Sabre fighter jet. All he needs is a bumper sticker that reads: "Maverick and Iceman are my co-pilots."
4. (Four Way Tie) Nicki Minaj, Paris Hilton, Katy Perry, and Britney Spears' Pink Cars
In keeping with their owners' living Barbie doll image, each of these cars was painted bright pink: Nicki Minaj's Pink Bentley GT, Paris Hilton's Bentley Continental GT, and Katy Perry's Smart Car. Britney Spears deserves a special shout out for not only painting her Hummer H2 pink, but adding Louis Vuitton upholstery as well.
3. Diddy's Chevy Express 3500
Diddy dropped $350,000 to turn his Chevy Express 3500 into a mobile office fit for a hip-hop mogul. It looks fairly normal from the outside, but inside it features six plasma TVs, a $2,000 wine cellar with a monogrammed door, hand-built hardwood floors, and Edelman leather seats.
2. Jack Osbourne BMW X5
Jack Osbourne wanted his 2004 BMW X5 to look extra classy, so he had a portrait of his family as zombies airbrushed on the hood. For some reason Osbourne had this feature removed when he sold the car in 2005, but he kept the X-Box, mechanical skulls in the stereo, and painted skulls along the side panels.
1. Green Day's 1968 Mercury Monterey
This car, which was featured in Green Day's videos for "Holiday" and "Boulevard of Broken Dreams," doesn't look like much — but it has some extremely unusual features. The band has no need for a mobile wine cellar, but they did ask for a flamethrower, leopard skin seats, and a hood ornament designed to look like a hand holding a grenade. James Washburn, who designed the car for the band, says, "Their favorite thing to do is shoot off the flamethrowers while playing the theme to 'Rocky' on the horn while the fog machine is smoking out the street."
[TMZ, GTSpirit, UrbanHustler, Luxist, Dub Magazine]
More:
Justin Bieber Joins Leonardo DiCaprio and Ashton Kutcher's $100K Hybrid Car Club
Justin Bieber Teases Fans With New Video