Kanye West Turns 35: His 35 Most Ridiculous Moments
You can call Kanye West a lot of things, but "subtle" certainly isn't one of them. In fact, thanks to many a controversy since he burst onto the music scene in the early 2000s, West might be more renowned for his brash, abrasive mouth than his chart-topping music. Still, we can't help to appreciate West's bizarre brand of genius, whether he's interrupting Taylor Swift's acceptance speech, releasing a song about his relationship with Kim Kardashian, or waxing poetic about Persian rugs with cherub imagery. So, in celebration of the rapper's 35th birthday today, we give you, in random order, 35 of his most ridiculous moments. 
1. West "doesn't care" about George Bush.
2. West has got your country right here, Gretchen Wilson! The rapper storms out of the 2004 American Music Awards after losing Best New Artist to the country singer.
3. Kanye kourts Kim Kardashian.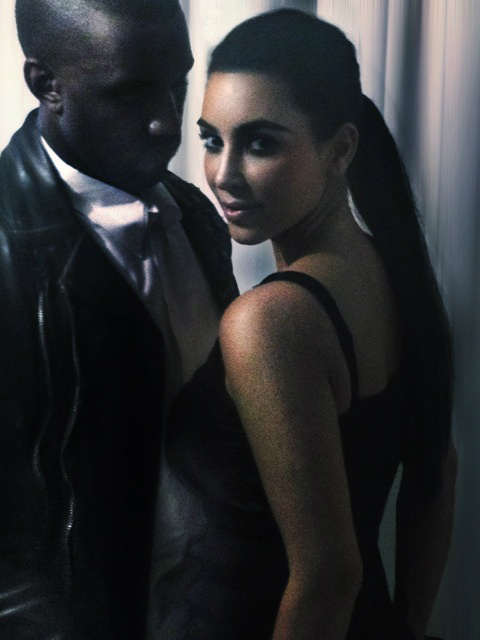 4. West crashes a stage. Europe cries foul.
5. West crashes a stage… again. Fans of country darling Taylor Swift (i.e. all of America) cry foul.
Get More: Music News
6. West has a future in publishing: "Ima make a book of my tweets… tweetbook," he said on Twitter Aug. 10, 2010.
7. West releases a single called "H.A.M." Angie Jordan digs it. 
8. This.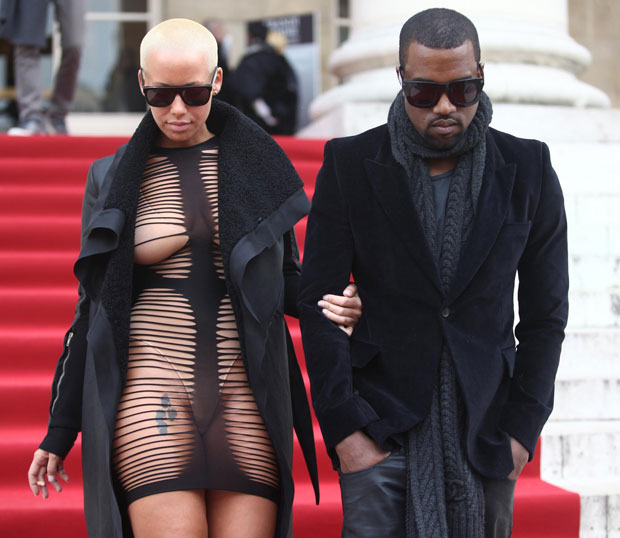 9. West understands the gravity of responsibility: "I hate when I'm on a flight and I wake up with a water bottle next to me like oh great now I gotta be responsible for this water bottle," he tweeted on Oct. 16, 2010.
10. West tells VH1's Storytellers: "I am God's vessel. But my greatest pain in life is that I will never be able to see myself perform live."
11. That divine self-congratulation makes his 2006 "The Passion" Rolling Stone's cover less surprising than the appearance of "James Blunt" in a headline.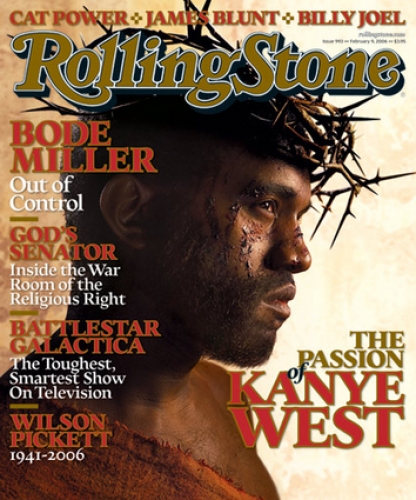 12. West addresses his voice immodulation: "I realize that my place and position in history is that I will go down as the voice of this generation, of this decade, I will be the loudest voice," he said in an interview, according to USA Today. "It's me settling into that position of just really accepting that it's one thing to say you want to do it and it's another thing to really end up being like Michael Jordan."
13. West understands the gravity of responsibility, Part 2: "Never do coke with an intern … they may not be 21 LOL," he said on Twitter Nov. 4, 2010.
14. West can make 2008 references, having "Mercy" for others, especially "white girls politicking" like "Sarah Palin."
15. West rides around in a hearse with Pamela Anderson in his "Touch the Sky" video.
16. West pays tributes to the greats Twitter: "I would like to thank Julius Caesar for originating my hairstyle."
17. West can walk (or, rather, stands) like an Egyptian in "Power."
18. West shares "THE New Workout Plan": "1 and 2 and 3 and 4 and get them sit ups right and / Tuck your tummy tight and do your crunches like this / Give head, stop breathe, get up, check your weave / Don't drop the blunt and disrespect the weed / Pick up your son and don't disrespect your seed."
19. West can take an ordinary pair of sneakers and make them worth $90,000.
20. Only the best for West's TPS reports. "Do you know where to find marble conference tables? I'm looking to have a conference…not until I get the table though," Kanye tweeted in 2010.
21. "I am rap." Nice to meet you!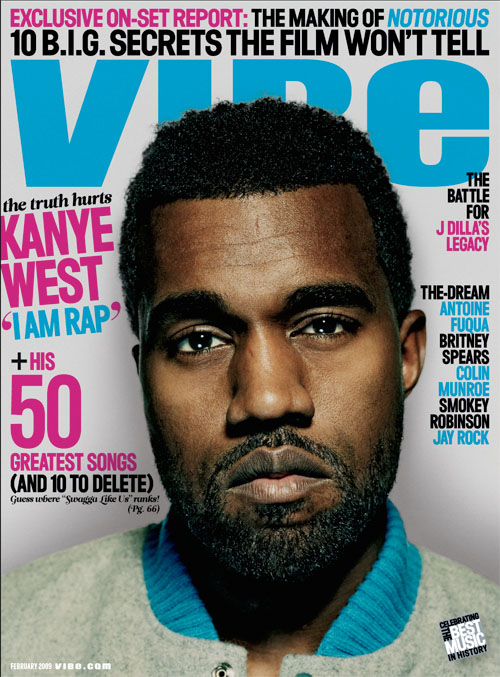 22. West knows not to direct his anger towards technology after criticism for arriving late to a concert: "I'm typing so f___ing hard I might break my f___ing Mac book Air!!!!!!!!," he responded on his blog. "Call me any name you want … BUT NEVER SAY I DIDN'T GIVE MY ALL!"
23. West even gets shaky knees over the idea of himself.
24. West appreciates the importance of health and self-medication.
25. West eats $100 for breakfast.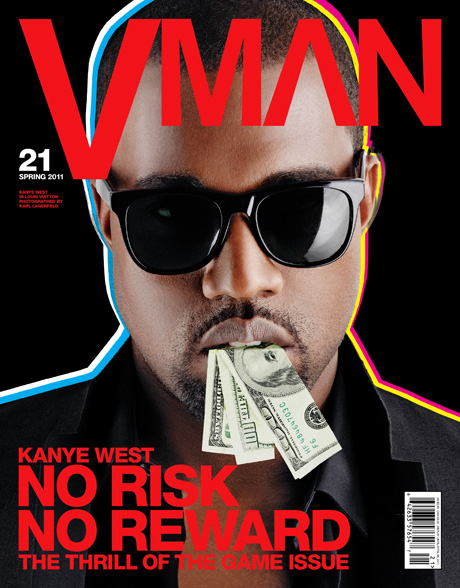 26. Kanye or Hitler?
27. West can choose to keep his eyes closed.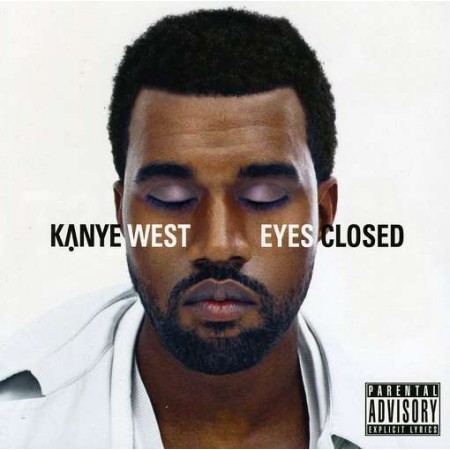 28. West plays the "Blame Game" with John Legend. Isn't that something that couples do — not just friends?
29. West inspires Josh Groban.
30. And South Park.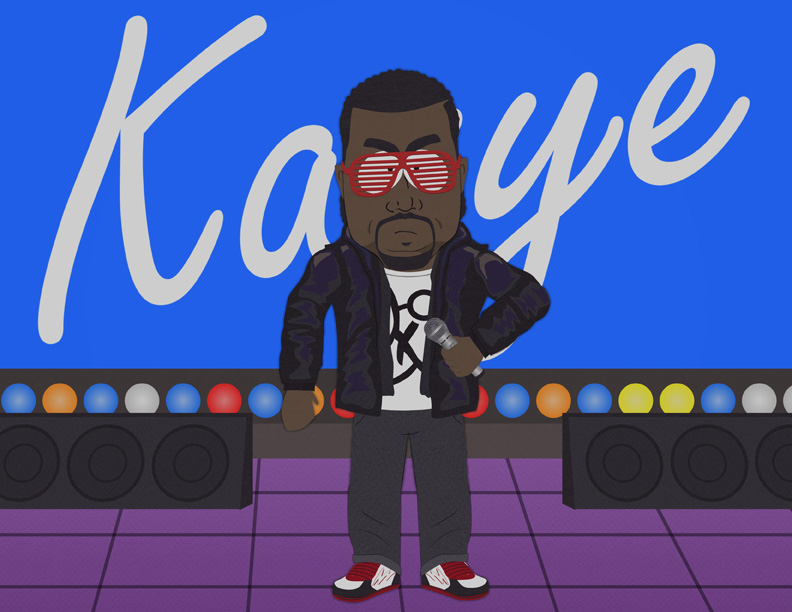 31. Ridiculously awesome: West lands the cover of Time.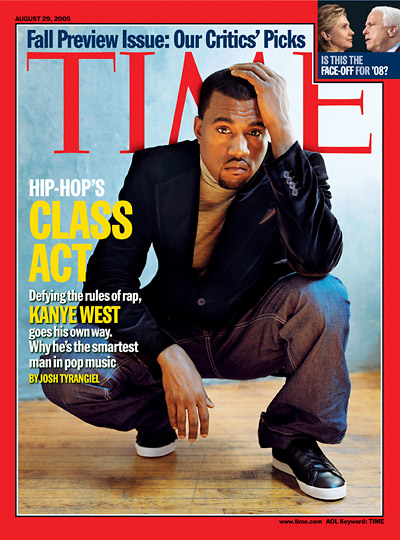 32. West's fantasies revealed: He gets abducted by a woman in his "Flashing Lights" video. She drives out to the middle of the desert, strips down to her sexy lingerie, and kills him with a shovel. Dr. Freud?
33. West name drops "Busta" and "Usher" in the most unflattering of ways.
34. Yes, West certainly has the "Good Life." He likes to "watch the money pile up" and "pop the hood [in his] Ferrari."
35. So now will someone fulfill his birthday wishes and get him some "cherub imagery!" "I specifically ordered persian rugs with cherub imagery!!!" he tweeted on July 29, 2010. "What do I have to do to get a simple persian rug with cherub imagery uuuuugh"
[Photo Credit: Ramey]
More:
Kanye Clones Himself in Mercy Video
Kanye and Jay-Z's No Church in the Wild Video