Who Are These Mysterious Guests Kanye West Is Bringing Out During The 'Yeezus' Tour?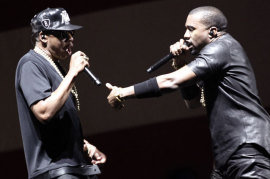 Getty Images
A few weeks ago Kanye West made the announcement his fans have been waiting for – the Yeezus tour is officially happening. And considering how innovative and brilliant the album is, we can only anticipate exciting going-ons for the tour. Yeezy will be touring with Kendrick Lamar, and his website also confirmed the appearance of surprise musical guests at various tour stops. We don't know who he's planning to bring, but we have a few suggestions. And while she may be collaborating with Kanye, we don't need Miley Cyrus to show up and twerk around to "Black Skinhead."  Not at all. Here are some guests we are hoping to see.
Although he announced his Magna Carta Holy Grail tour on the same day that Kanye announced the tour for Yeezus, we're hoping Jay makes an appearance (preferably at the Barclays Center location). Between their hits from Watch The Throne, and a few throwback songs ("Never Let Me Down," anyone?) the crowds could definitely use a little Yeezus/Hova mash-up.
It may sound random, but if her hubby's going to be there, why not Queen Bey? If they all get together and perform "Lift Off," it could be pretty epic.
Charlie Wilson
Uncle Charlie and Kanye just performed "Bound 2" on Late Night With Jimmy Fallon, and it was quite the experience. Charlie always gives a good show, so it'd be great to see him pop up on the tour.
Chief Keef
Kanye has been co-signing his fellow Chi-town rapper for some time, even going so far as to include him on the Yeezus album. If I were at the Chicago venue, I'd expect to see a little Keef in the building.
Pusha T
Seeing as how Kanye just co-signed Pusha T in another one of his epic, anti-corporation rants, and seeing is how Pusha T is expected to have one of the best albums of the year, we're gonna need to see some Pusha at one of these shows. 
Lorde
First off, if you don't know who Lorde is we're here to help. Secondly, the New Zealand pop star recently covered Kanye at one of her shows, and the thought of these two together in one place is enough to make any music fan totally lose it.
God
Yes, as in God. One of the only, um, artists featured on the Yeezus tracklist, we'd appreciate it greatly if God would show up and perform alongside Kanye for their song "I Am A God." If this doesn't happen, we'll understand, but will still be a little disappointed at the end of the night.
More:
Who Is Lorde?
Kanye West And Jay Z Announce New Tours 
Miley Cyrus To Collaborate With Kanye West
---
From Our Partners:


40 Most Revealing See-Through Red Carpet Looks (Vh1)


15 Stars Share Secrets of their Sex Lives (Celebuzz)