Home
Celebrities
Kim & Kanye: Let's Name Their (Non-Existent) Reality Show!
Kim & Kanye: Let's Name Their (Non-Existent) Reality Show!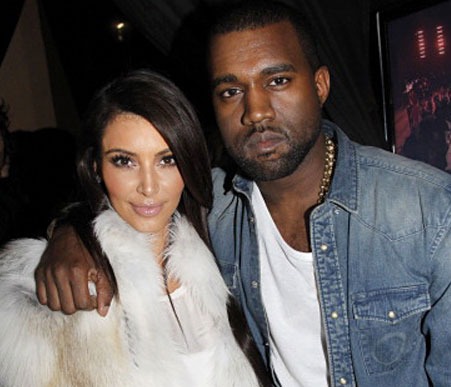 Where Kim Kardashian's love life is, a camera follows — just look at how the tabloid figure's one-time husband Kris Humphries was incorporated into her reality show lifestyle. Not only did Kourtney & Kim Take New York follow Kardashian and Humphries' relationship prior to their wedding, but the reality star also turned her nuptials into a two-part E! extravaganza. But now that Humphries is out of the picture, it seems Kardashian has found a new target (or should we say co-star?): Kanye West. Though reports have suggested that West won't be a part of the next season of Keeping up with the Kardashians, he does have a "K" in his name. Therefore, we will assume that a spin-off is inevitable. But if the newly anointed tabloid couple were to khronicle their kourtship on reality television, what would they name the series? We have some suggestions.
1. Keeping Up with Kim & Kanye
Let's keep our first suggestion simple. This series would tell the story of how West and Kardashian's eight-year-long friendship blossomed into a full-blown romance. Plus, there's that rumor that West cheated on his ex-girlfriend, Amber Rose, with Karadshian — and that Kardashian cheated on Humphries with West. Now, that's that would pay for 50 years of self-tanner for executive producer Ryan Seacrest. 
2. Kim & Kanye Krash Kansas City
Forget about Khloe & Lamar. In an absolute dream reality world, this show would track the lives of Kim and Kanye as they leave the Hollywood limelight and head to Kansas City (because, why not? And we're not cruel enough to send them to Kankakee). Kardashian could open a new Dash boutique, which always proves to be Major. Dilemma. And, Kanye would struggle with finally learning how to use his keyboard without his entourage. HOW DOES HE REMOVE CAPS LOCK?
3. Kim and Kanye Take Over Your Google Reader
News flash: Kim has a boyfriend. Breaking: Kim & Kanye, hot new item. This Just In: Kim has met her one, true love. Yes, it seems every media outlet has a Kim and Kanye story covering their homepage. Just pit a camera in front of your Google Reader and you get to enjoy non-stop, soul-sucking plot 24/7. 
4. Kim Kardashian's Two-Part Second Fairy Tale Warning: Imma Let You Finish Your Vows… Before We Split
Oops, did it once — she can (and will!) do it again. That's get hitched on television. The only question is, would she still rack in the huge numbers for round two? And is it possible for West to crash his own wedding?
5. Kim Kardashian: Finding Happily Ever After… With West?
Kardashian says she's not to blame for her marriage to Humphries falling apart. She simply thought she fell in love, but didn't realize he wasn't the one until after saying "I do." Well, here's her chance to expense counseling! Let's place Kim with a therapist and dissect why she can't maintain a relationship. Think: In Treatment, but with martini glasses full of water (Kim doesn't drink), lots of group sessions with Kourtney and Khloe (who will overshare their gross family habits), and all of this taking place on a private jet on the way to Africa (where one of the Karadshians will adopt). Will Kim be able to cure her love ailment? If she can, Kanye will be magically waiting for her at the end of her journey. With fishsticks. 
More:
Kanye Kroons Over Kardashian In New Single