Did You Hear the One About Kim Kardashian Giving a Teen Choice Award Surfboard to Her Chiropractor?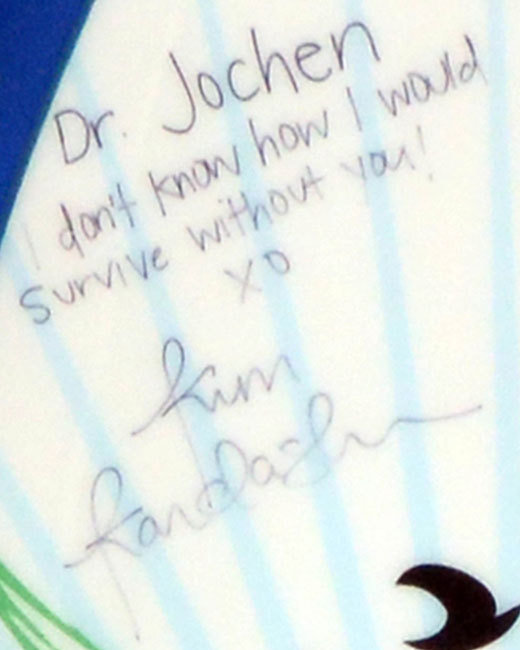 I've kept to myself how strange I've always found my aunt's habit of sending a fruit basket to her dentist after annual appointments, but I feel as if this new upping of the ante in doctor/patient gift exchange warrants a bit of attention. Not as a question of propriety or ethics — who really cares about either of those things, anyway? Simply, Kim Kardashian's gifting of a surfboard to her chiropractor is one for the brow-raising history books.
The reality television star, fashion icon, PETA target, lawyer daughter, Kanye wrangler, Miami taker, expectant mother, and alliteration enthusiast has bequeathed unto the man charged with keeping her spine straight, one Dr. Stephen Jochen, a surfboard. Because you know the old stereotype: the practitioners of complimentary medical theory devoted to joint dysfunction love surfing.
RELATED: Will Kim Kardashian and Kris Humphries Divorce Before Baby Kimye Is Born?
For those of you who still hold strong to the old cliche that it's the thought that counts, she didn't even buy the surfboard. She won it. At the 2012 Teen Choice Awards, in the Favorite Female Reality Star category (the second most prominent of the TCA's categories, next to Best Movie Hissy Fit).
Okay, resilient humanists, maybe there was a good deal of thought behind this gift. Maybe when Kim won the surfboard (back in July of 2012…) she thought, "This would be perfect for ol' Jochy!" … and then waited almost eight months before bestowing said dowry unto her spine-molding companion…
RELATED: Kim and Kanye's Naked Magazine Cover
But the message scribbled faintly at the top of the surfboard, "Dr. Jochen, don't know how I would survive without you! xo, Kim Kardashian," leads us to think that Kim was just running low on paper that day. "Dang it," she groused while fumbling around her car, Sharpie in hand, hoping to pen the doc a quick note of thanks, spotting out of the corner of her eye the seafaring vehicle collecting dust in the trunk. "Eh, that'll work."
I feel as though I owe my aunt an apology.
Follow Michael Arbeiter on Twitter @MichaelArbeiter
[Photo Credit: Larsen/Dharma/INF Photo]
---
From Our Partners:


40 Most Revealing See-Through Red Carpet Looks (Vh1)


15 Stars Share Secrets of their Sex Lives (Celebuzz)