Home
Celebrities
'Kourtney and Kim' Star Kristin M.K. Ducote Seen at Miami Beach's Lululemon...
'Kourtney and Kim' Star Kristin M.K. Ducote Seen at Miami Beach's Lululemon — EXCLUSIVE PIC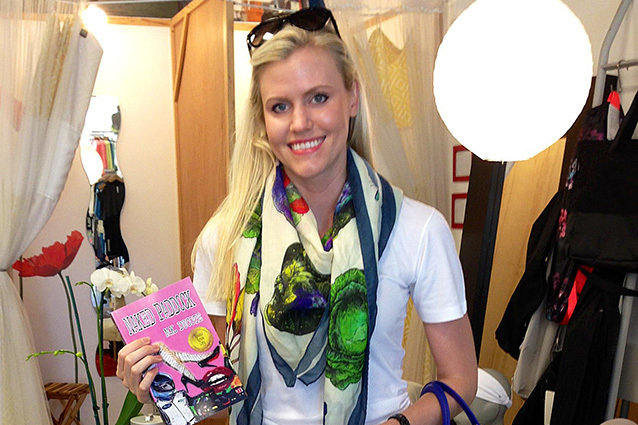 Kristin M.K. Ducote, star of Kourtney and Kim Take Miami, was seen shopping at Miami Beach's Lululemon Athletica in this exclusive photo taken by Hollywood.com's Kim Everman. (See more photos of Ducote on Miami Fashion Revolution.)
Ducote, an accomplished model-attorney-turned-Chief Legal Officer of Merchant Services LTD, is married to professional race car driver Chapman Ducote, who is also close friends with Kourtney Kardashian's husband, Scott Disick. The friendship led to the Ducotes' appearance on the third season of Kourtney and Kim. What was the experience like on set? "The Kardashians are surprisingly down to earth and fun, especially Khloe," Ducote says. "I met her for the first time when we (Scott, Chapman, Khloe and I) went boating in Palm Beach, and by the end of the day I felt like we'd been friends for ages. Both Khloe and Scott were very witty and our time with them was filled with constant laughter."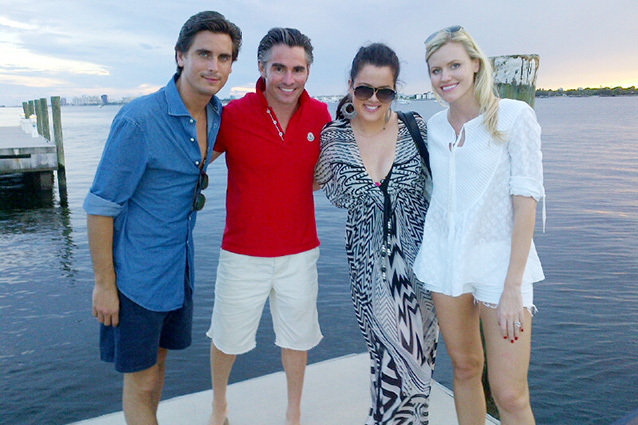 And, these days, Ducote has plenty so smile about — not only has she appeared on reality TV, but Ducote has also released her first novel, Naked Paddock, which she's seen holding in Hollywood.com's exclusive photo. Inspired by her husband's life in motorsports — the professional driver has won several races in the American Les Mans — Ducote will release a trilogy of novels set in the racing world, providing readers with an inside look at the sport. Naked Paddock, which focuses on the relationship between a brainy doctor and a philadering driver, is currently available on her site. "When I first met my husband … I knew nothing about racing," she says. "As I was tossed into the world of motorsports and started traveling to races with him all over the world, I was shocked. Fistfights, love affairs, lawsuits — the drama behind-the-scenes in the racing world is crazy! It was like stepping into an episode of Entourage — glamorous, but also hilarious and irreverent."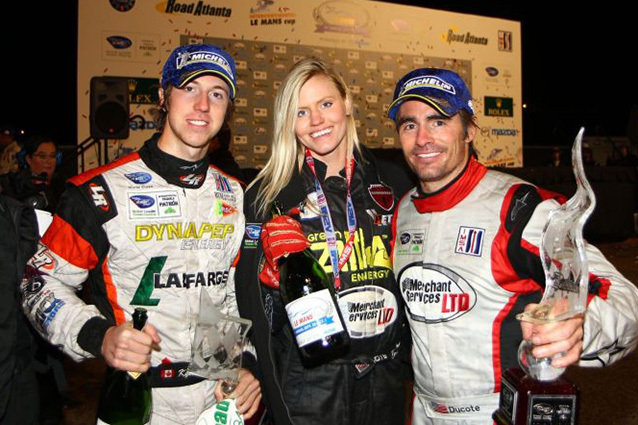 Can we expect a Kardashian trilogy next from Ducote, pictured above with her husband, right, and driver Kyle Marcelli, left? "They say truth is stranger than fiction, so who knows, maybe I will [write a book about reality TV]," Ducote says. "Chapman and I have some exciting plans in the works for more reality TV and guest appearances in the near future."
For more fashion news, head over to Miami Fashion Revolution and follow Miami Fashion Revolution on Twitter!
 [Photo and Reporting By Hollywood.com's Kim Everman]
---
From Our Partners:


Eva Longoria Bikinis on Spring Break (Celebuzz)


33 Child Stars: Where Are They Now? (Celebuzz)