Stop Threatening to Light Me on Fire: The Lady Gaga/Katy Perry Edition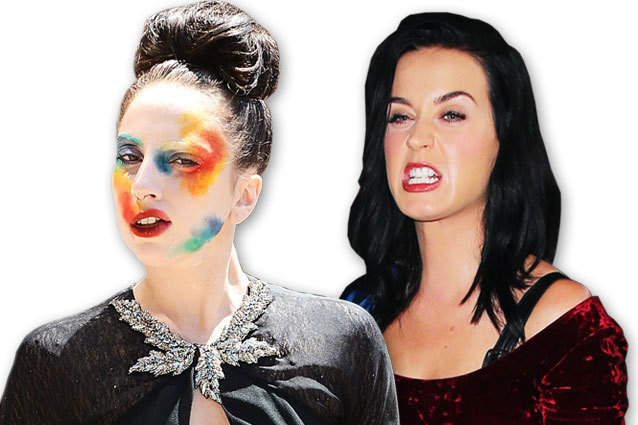 Here at Hollywood.com, we're not Katy Kats or Little Monsters. We're just fans of celebrities and music. With that said, we are not going to add to the vitriol and pit Katy Perry and Lady Gaga against each other. They are both equally talented, smart, beautiful, and savvy women that put on a great live show and release fun pop music, and we respect that. And to be perfectly honest, we'd give up our liver and probably an arm to be either of them for two seconds, so there's no hate in this post. We're alumni of the Tina and Amy School of Women in Entertainment, not a group of middle school girls scalping each other over boys or popularity. We're here to support, not tear down.
While both "Applause" and "Roar" are simple, mind-numbingly repetitive (I gave up trying how many times Katy Perry sings "roar" — it's at least twice as much as Lady Gaga says "applause," and I just can't handle it), and nothing earth-shatteringly new. Neither is better (or worse) than the other. Both songs are perfect to jam out to while driving or staying motivated at the gym. Both singles have one word titles from albums with one word titles. The two songs are even similar in how they make the listener feel: the music pumps you and and is empowering. Also, both of these women are using the back and forth between their dedicated and intense fan-bases to drum up publicity for themselves to the point that they have each ranked among the most popular topics in pop culture, and are likely laughing at all of this over tea or Bellinis with Anna Wintour somewhere. This circus will likely result in several hundred thousands of digital downloads for the women in the first week alone of each album's opening.
So what if fans or critics chose "Roar" over "Applause"? Or ARTPOP over Prism? This isn't math class. There's no right answer to the question of what song or which singer is better. You can like one better, but don't threaten to light a rival fan on fire or harass them on Facebook (Mother Monster said not to, guys). The Haus of Gaga is churning out music and merchandise at the same speed and quality as Katy Perry (who, presumably, gets the job done while wearing lots of velour and scarves alongside John Mayer and her cats). These ladies are probably friends. If not, well, they should be. Can we avoid another Britney-Christina situation and actually just support each other for a change? I'm pretty sure even Whitney and Mariah were buddies. There's room on Billboard's Hot 100 for both of them. As of 9 AM on Tuesday, Katy Perry and Lady Gaga occupied the first and second spots on iTunes (respectively), passing Robin Thicke, Jay-Z, and Justin Timberlake.
Let's remember that there's that special place in hell for women who don't help each other out. And if you're paying attention, both Lady Gaga and Katy Perry come out winners because all of this "competition" is just a lot of media hoopla to get these artists at the top of the charts. Both songs are fun to sing and dance along to, both are equally cheesey pop nouveau classics, and both are already on my iPod. 
So please, stop threatening to light me on fire, and remember, we're all on the same team here.
Follow Trish Halpin on Twitter @yaypineapples | Follow hollywood.com on Twitter @hollywood_com
More:
Lady Gaga Bares All in NSFW 'Art' Video
Lana Del Ray Bashes Lady Gaga
Lady Gaga Pierces Her Septum
---
From Our Partners


Battle of the Bikini Bodies (Celebuzz)


Complete Guide to Strippers in Movies and TV (Vh1)