Lance Armstrong Confesses to Doping in Oprah Interview — Could He Face a Perjury Charge?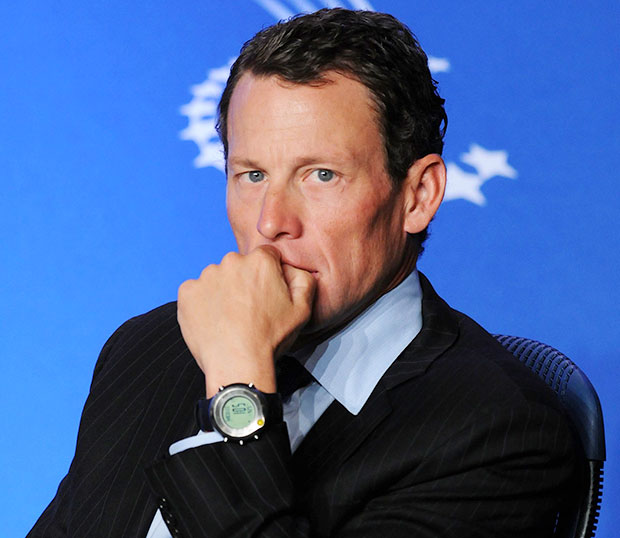 Guess the cat's out of the bag. After attempts to keep the contents of her interview with Lance Armstrong under wraps failed, Oprah Winfrey appeared on "CBS This Morning" on Tuesday to discuss her two-and-a-half hour long talk with the disgraced cyclist. "We had agreed that the terms of the interview, and specifically what was included in the interview, would be left for people to make their own judgments about, and that I would not be discussing and he would not be discussing or confirming," Winfrey tells CBS News. "We agreed to that. But then by the time I had left Austin and landed in Chicago, you had already confirmed it!" The "it" Winfrey is referring to is that Armstrong confessed to using performance-enhancing drugs.
While Winfrey says that Armstrong was "forthcoming" in his answers, his admission was not what she expected. "It was surprising to me. I would say that for myself, my team, all of us in the room, we were mesmerized and riveted by some of his answers," Winfrey says. "I had prepared [for the interview] like it was a college exam, and walked into the room with 112 questions. And in a two-and-a-half hour interview I asked most of those questions — or at least as many of those questions as I could — but I feel that he answered the questions in a way that he was ready."
Alluding to Armstrong's doping confession, Winfrey says, "I didn't get all the questions asked, but I think the most important questions and the answers that people around the world had been waiting to hear were answered, and I can only say I was satisfied by the answers."
In response to questions about the timing of Armstrong's confession, Winfrey said, "I think he was just ready. I think the velocity of everything that's come at him in the past several months and particularly the past several weeks, he was just ready." Watch Winfrey's interview with CBS News below.
According to a New York Times article from Jan. 4, Armstrong was considering a confession "because he wants to persuade antidoping officials to restore his eligibility so he can resume his athletic career." CBS notes that while the World Anti-Doping Code states that Armstrong's ban cannot be reduced to less than eight years, Armstrong may hope that a confession will allow him to compete in triathlon or running events.
Prior to making his decision to op(rah)en up about his transgression, Armstrong and his team were concerned about the legal ramifications of a confession. The New York Times states, "But what worries Armstrong and his lawyers most, two of the people with knowledge of the situation said, is that he could face charges of perjury if he confesses because in sworn testimony in the SCA case he said he had never doped." (The Dallas-based insurance company SCA Promotions is seeking to recoup the millions of dollars it covered when Armstrong won multiple Tours de France races. Armstrong previously sued SCA after it withheld a $5 million dollar bonus due Armstrong for winning the 2004 Tour based on doping allegations made in the book L.A. Confidential: Les Secrets de Lance Armstrong.
The Times notes, "Before coming forward, Armstrong would need assurances from the Justice Department that he would not be prosecuted for those crimes, those two people said."
As Armstrong's attorney Tim Herman declined comment to Hollywood.com, it's not clear that Armstrong received such immunity. But Jenny Carroll, Associate Professor of Law at Seton Hall University School of Law and a former public defender, notes that while rare, it is possible that the Justice Department granted Armstrong such a request. "The government can, as part of its executive power, make decisions about who to charge and what the circumstances are of a particular charge. And certainly granting someone immunity in exchange for them testifying or confessing, as the New York Times says, it definitely happens," says Carroll.
"What's interesting about this case, is when it happens it usually happens the other way around," she adds. "So instead of the big name being the person that gets the immunity a little name gets immunity so that they can prosecute the big name. But, as the New York Times article alludes, there are several reasons why in this case it makes more sense to have the big name get the immunity rather than one of the little names: because Armtrong's the draw for a lot of fundraising, he's the big name attached to a series of causes. So there may actually be some very good policy reasons that they perceive, that the US government perceives, and kind of go a little counter to what their policy frequently is."
In regards to sentencing in perjury cases, Carroll notes, "The government will make a sentencing recommendation. My guess is if [Armstrong]'s perceived as cooperating with them and voluntarily participating, the recommendation will probably be relatively low, and even if it's not the sentencing judge will take into account, or should take into account, the fact that he is voluntarily cooperating even at his own peril. The modern federal criminal sentencing structure is pushing towards more discretion for judges to make decisions on kind of a case by case basis rather than to have kind of these very strict sentencing guidelines that are always followed."
A potential perjury charge will also hinge, of course, on what exactly Armstrong revealed to Oprah. While she says she was "satisfied" by his answers, there is not guarantee that Armstrong will come clean with the whole truth and nothing but the truth. It is expected, however, that an apology will accompany Armstrong's confession. CBS reports that before sitting down with Winfrey, Armstrong appeared at the Livestrong Foundation and tearfully apologized to the cancer charity he helped create. 
Follow Abbey Stone on Twitter @abbeystone
[Photo Credit: Wenn]
More:
Oprah to Talk to Lance Armstrong. What Are Her 10 Most Awkward Interviews Ever?
It's a Bad Day to be Lance Armstrong
Lance Armstrong's Scandal and Why We Can't Believe Anything Anymore

Craziest Celebrity Swimsuits (Celebuzz)