Larry Hagman: Celebs Tweet Tributes to Late 'Dallas' Star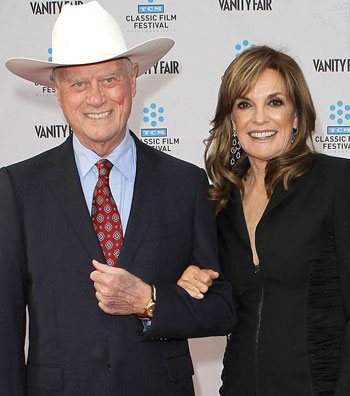 Beloved television legend Larry Hagman, 81, passed away Friday, November 23. Hagman—best known for his iconic roll as J.R. Ewing in both the original Dallas and its TNT reboot—touched many lives throughout his accomplished career. At the news of his passing many celebrities are sending out their remembrances and condolences to the acclaimed actor through Twitter.
Although many touching tributes have been sent to Hangman and his family, Barbara Eden's personal Facebook message to her I Dream of Jeannie co-star is one of the most beautiful and heartfelt of them all. The actress writes, "Larry was the center of so many fun, wild, shocking… and in retrospect, memorable moments that will remain in my heart forever."
You can read Eden's moving message in its entirety, and then check out the sweetest celebrity tweets to Hangman below.
It was truly an honor to share the screen with Mr. Larry Hagman.With piercing wit and undeniable charm he brought … tmi.me/B6G6s
— Jesse Metcalfe (@jessemetcalfe) November 24, 2012
Very sad to hear that Larry Hagman has died. His JR Ewing character was the greatest TV villain of them all. Wonderful actor. #RIP
— Piers Morgan (@piersmorgan) November 24, 2012
One winter as Larry Hagman's neighborhe'd invite our kids to join his parade on the beach.He'd march in caftan w/flute.Joyful soul
— Tom Brokaw (@tombrokaw) November 24, 2012
I'm shocked.Larry Hagman was a dear man who had an incredible career.He helped me to stop smoking.He really was a very special person.
— Larry King(@kingsthings) November 24, 2012
RIP Larry Hagman. Thank you for being such an entertaining actor and giving us such happy memories.
— Elizabeth Hurley (@ElizabethHurley) November 24, 2012
OH NO! Rest in peace Larry Hagman. Between Dallas and I Dream of Jeannie, you were huge part of my childhood. You will be missed JR. Prayers
— Adam Shankman (@adammshankman) November 24, 2012
OMG Larry Hagman died. What a sweetkind soul. I was fortunate enough to meet him. What an icon Heaven is receiving. #ripjrewing
— Scott Baio (@ScottBaio) November 24, 2012
A wonderful interview with the great Larry Hagman. RIP. The Rollicking Life of Larry Hagman: nyti.ms/prKr8e
— Martha Plimpton (@MarthaPlimpton) November 24, 2012
RIP #LARRYHAGMAN. JR. MAY YOU REST IN PEACE!! PRAYERS OUT TO THE FAMILY!!!
— Dot-Marie Jones (@dotmariejones) November 24, 2012
Larry Hagman made tv we will remember forever as J.R. But I will also treasure his charm and devotion to family, friends. Rest in peace.
— Julie Chen(@JulieChen) November 24, 2012
So sad to lose such a wonderful dear bigger than life friend. Larry Hagman was one of a kind and will be with us all forever.
— Linda Gray (@Linda_Gray) November 24, 2012
Very sad to hear about larry hagman. He was the best tv baddie and from people who met him all said he was a great guy. He will be missed.
— Simon Cowell (@SimonCowell) November 24, 2012
So sad to hear about Larry Hagman's passing. A picture of me with "J.R." from years ago: instagr.am/p/L1HerRSZAG/
— Katie Couric (@katiecouric) November 24, 2012
R.I.P Larry Hagman! What a legacy! Peace!
— boygeorge (@BoyGeorge) November 24, 2012
Follow Leanne on Twitter @LeanneAguilera
[Photo Credit: DailyCeleb.com]
MORE:
Larry Hagman, 'Dallas' Star, Dies at 81
New 'Dallas' Trailer Fueled by Oil, Greed and Old Rivalries
'Dallas' Pic: Holy Flashback, Patrick Duffy!

Jennifer Lawrence Bikinis in Hawaii (PICS)

Remembering Larry Hagman, 'Dallas' Star, Dead at 81