'M*A*S*H' Actor Allan Arbus, a.k.a. Dr. Sidney Freedman, Dies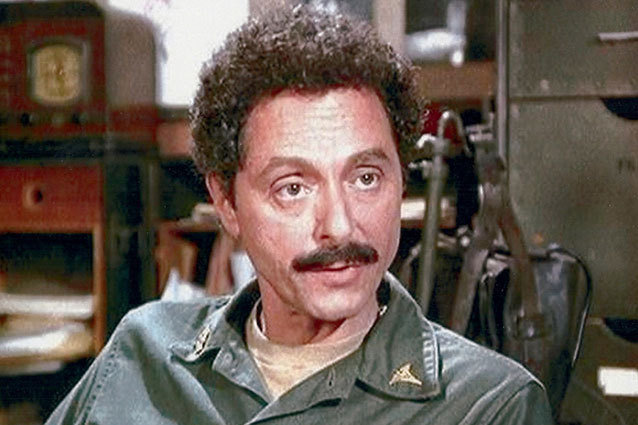 Actor Allan Arbus, best known for his role as Dr. Sidney Freedman on M*A*S*H and, in real life, as the  ex-husband of fashion photographer turned activist Diane Arbus, has died in his Los Angeles home. He was 95.
In dozens of episodes of M*A*S*H, Arbus mended psychological wounds with caustic zingers and a decidedly left-wing worldview that mirrored that of show creator Larry Gelbart. He's perhaps best known for his work tending to Alan Alda's Hawkeye in the series finale, "Goodbye, Farewell, and Amen," then the highest rated U.S. broadcast of all time. In that epic 150-minute episode, Hawkeye finally had a nervous breakdown — after 11 seasons, mind you — because he witnessed a South Korean woman he was protecting smother her baby so that it wouldn't cry and reveal them to North Korean troops. It was a powerful episode, and demanded a lot from Freedman, who, like Hawkeye, may have realized that witty barbs can only keep the reality of war at bay for so long.
Though Arbus was best known for M*A*S*H, he had a previous claim to fame. Born in 1918, Arbus enrolled at New York's City College at the age of 15, but left a year later for a job at Russek's Department Store in Manhattan. There he met a young woman named Diane Nemerov, the daughter of the store's owners. They got married, and after they started a photography business together, Diane Arbus became world famous as a fashion photographer and, later, a documentarian of marginalized people. Arbus remains a major icon in the fashion world for her lush photo spreads in Vogue and Glamour from the '50s and '60s.
But her husband got tired of the photography world and closed his business to pursue a career in acting. He appeared in exploitation fare like the Pam Grier classic Coffy, before getting the call-up to M*A*S*H, and continued acting as recently as 2000. His final TV appearance came as Larry David's uncle on Season 1 of Curb Your Enthusiasm, an uncle who's falsely accused of sexually abusing Larry. But that mix of comedy, awkwardness, and outright pain? That's classic Allan Arbus, even at the end.
Follow Christian Blauvelt on Twitter @Ctblauvelt
More:
Jonathan Winters Dies at 87
Roger Ebert, Legendary Film Critic, Dies
Annette Funicello Dies
---
From Our Partners:


Eva Longoria Bikinis on Spring Break (Celebuzz)


33 Child Stars: Where Are They Now? (Celebuzz)