'Meant To Be' Proves TLC Can Cut It Without Left Eye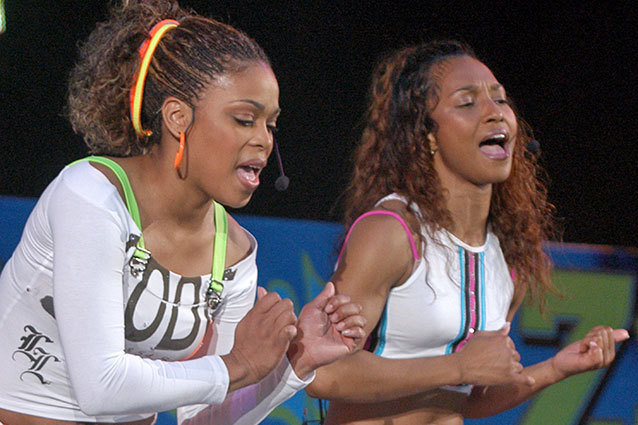 WireImage
Lisa "Left Eye" Lopes' playful lyrical flow was so integral to TLC's classy R&B sound that it seemed unthinkable that T-Boz and Chilli would be able to carry on as a duo following her tragic death in 2002.
However, apart from their misguided reworking of "Waterfalls" with Japanese pop star Namie Amuro, the pair have managed to move forward but without destroying their legacy with a series of sporadic releases over the last decade.
First there was 3D, the dignified studio swansong which combined their final recordings with the late rapper with new acoustic-flavored material ("Damaged," "Turntable") which stood up to the best of CrazySexyCool and FanMail.
Then came a handful of vibrant, if inessential, collaborations especially recorded for hits compilation, Now and Forever, ("I Bet" with R U The Girl winner O'so Krispie, "Come Get Some" with Sean Paul & Lil Jon), well-received sets at the Justin Timberlake & Friends benefit concert and the 2011 American Idol finale and an engaging take on "Rainbow" for a tribute album to Japanese rock band L'Arc~En~Ciel.
However, it's only in 2013 that the twosome appear to have come around to the idea of a proper full-time comeback. In April, they revealed they were thinking of using the same hologram technology that resurrected Tupac at Coachella to go on tour with their late bandmate. In July, they performed at the Mixtape Festival with Lil Mama, the rapper who plays Lopes in the upcoming VH1 biopic, CrazySexyCool: The TLC Story. Meanwhile an inspired hook-up with J. Cole on "Crooked Smile" took them back into the US Hot 100 for the first time since 2003.
Rumoured to be working on a brand new studio album for 2014, the duo also unveiled the only newly-recorded track this week from their latest retrospective, 20. Co-written with Ne-Yo, "Meant To Be" is a touching mid-tempo about weathering the storms which cleverly fits in with the current 90s R&B revival scene. And while TLC will never be the same without Left Eye, it's the latest example of how T-Boz and Chilli still have plenty to offer.