Miley Cyrus Is Still Trying to Get Our Attention in 'Wrecking Ball' Video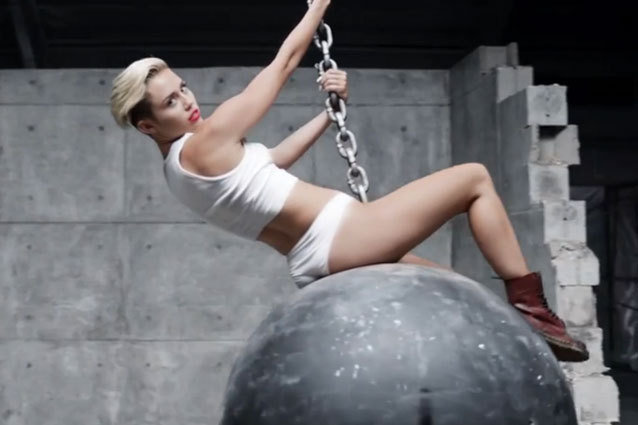 So it's Monday, the sun is shining, the traffic is humming, and Miley Cyrus is naked in her new music video…
Cyrus' music video for her new single "Wrecking Ball" dropped today in anticipation of her album, Bangerz, which will be released October 4. The video begins with a simple close up on Cyrus' face as she sings into the camera. The fake tears are a little much, but it's otherwise raw and emotional (if a direct ripoff of Sinead O'Connor). For about thirty seconds. Then it cuts to Cyrus, dressed in underwear, suggestively licking the end of a sledgehammer. It's like something out of a particularly exploitative American Apparel ad, probably because it was directed by Terry Richardson, mastermind behind every particularly exploitative American Apparel ad. Richardson is notorious for hyper-sexualizing his female subjects until they look completely powerless and objectified. That's why the less said about Cyrus' nudity in this video, the better. In short: it's neither sexy nor powerful, has nothing to do with the song, and Pilates really works. 
Say what you will about the "We Can't Stop" video, but at least there was the thinnest of storylines to it: kids having a party. But other than the prescence of an actual wrecking ball, this video has nothing to do with the song and everything to do with scandalizing people who write blog posts. Well guess what: you burned us once too many times, Miley. We're not scandalized anymore. You know what would have actually been a unique take for this video? Honesty. Vunerability. Singing. Why not shoot the whole video like the first verse? Stripped down, no "crazy" antics — if Miley wanted to genuinely surprise her audience, that's what she'd need to do. But after grinding on Beetlejuice on national television, rolling over to show your butt (2:20, it's awkward) is just more of the same. 
And when the goal is to be shocking and nothing else, you end up looking like a middle school poser. And you end up with an album titled Bangerz. 
All right, Miley. Let us know when you're ready to stop. 
More:
Miley Cyrus Doesn't Pay Attention to the Negative… But Maybe She Should
Tina Fey and Miley Cyrus to Host SNL This Year
2013 VMAs: Miley Cyrus Pioneers the Movement to Sexualize Teddy Bears
---
From Our Partners:


A Complete History Of Twerking (1993-2013) (Vh1)


15 Stars Share Secrets of their Sex Lives (Celebuzz)