Home
Celebrities
Nora Ephron, Neil Armstrong, and Whitney Houston: In Memoriam for 2012
Nora Ephron, Neil Armstrong, and Whitney Houston: In Memoriam for 2012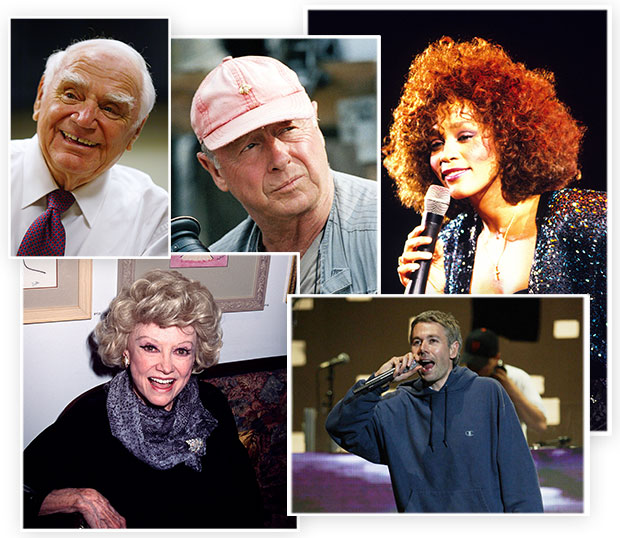 Death is a natural part of life. Without one, the other cannot exist. And in 2012, many heavyweights of the entertainment world were lost. Sometimes death can be a moment to mourn those we've lost, but also celebrate their achievements.
Perhaps the most notable death of 2012 was that of Whitney Houston. Houston passed away at age 48 in February of this year, and with her the world mourned. Houston was a true icon in every sense of the word: her voice was like none other in the world, and her death served as a wake-up call to the real dangers of narcotics. It is said that "despite her past personal troubles, she still became one of the most successful and award-winning female artists of all time." Whether on-screen in The Bodyguard and Sparkle, or on-stage at the Grammy Awards, Houston made every moment shine with her golden vocal chords, and her loss will be felt far beyond her 48 years of life.
In August we lost iconic and barrier-breaking female comedian Phyllis Diller. Diller was "often cited as a pioneer of comedy, helping establish women in Hollywood as legitimate stand-up talent." Her work as a female comedian started "in radio in the 50s, before leveraging the appearances into television spots and a full touring career." A feat, no doubt, impressive at any time, but especially while Diller was doing it. During the 60s, Diller starred alongside Bob Hope in 23 television specials and three films.
Another female icon gone too soon was Nora Ephron, a woman who wore many hats, including director, writer, journalist, and more in her impressive career. In our obituary for Ephron, we discussed the "surprisingly diverse and fantastic career," of hers, one "with nary a creative miss on her IMDb page." She wrote and directed some of the most classic romantic comedies out there, including Sleepless in Seattle, You've Got Mail, and Julie & Julia, Heartburn, and When Harry Met Sally. "What separated Ephron from her counterparts was not only her distinct sense of humor, but the way that she could create original, complex female characters and put them in traditional movies without making them seem simple or pandering." It is a universal truth that the name Nora Ephron "was a hallmark of the quality that she brought to all of her work."
Hero to space nerds and humans everywhere was Neil Armstrong, who lost a battle with complications from a heart bypass surgery in August. His first steps on the moon were "one small step for man, one giant leap for mankind" even though, in the end, Armstrong fancied himself "a reluctant American hero who always believed he was just doing his job."
A shocking loss was the unexpected death of Green Mile actor Michael Clarke Duncan, who was especially known for his booming voice and hulking stature. But not only that, Duncan was a comedy man. "Duncan's comedic timing coupled with his action-star prowess made him a staple in other films," including Daredevil, a remake of Planet of the Apes, Sin City and animated kids' film Kung-Fu Panda.
One of the longest-running careers in Hollywood was cut short in July when Ernest Borgnine passed away. The charismatic 95-year-old had a career that spanned decades. Six, in fact, "making him an icon of the business, beloved and respected by many." He was mostly-known for his work as a character actor, where "Borgnine made the Hollywood scene his playground, making a name for himself with generally villainous roles. His career-bucking role as a lovelorn butcher in 1955's Marty won him an Oscar for Best Actor." Other highlights of his career included 1953's From Here to Eternity, and his long-standing run on TV's McHale's Navy as the title character Quinton McHale.
Author and political and gay activist Gore Vidal left us in July, and with him an iconic voice of truth-telling and honesty in writing. From the plays (and screenplays) of Paris is Burning to his work on Ben-Hur, "Vidal was considered many things outside of his writerly pursuits" and one of his most famous works, The City and the Pillar, is said to be one of the first mainstream American novels to feature overtly gay characters at its center." It was so controversial at the time that The New York Times refused to review it in 1948. His passion for Hollywood and his interests never wained.
Another author, Ray Bradbury lost his life in 2012. Best known for works like Fahrenheit 451, The Martian Chronicles, Something Wicked This Way Comes, and The Illustrated Man, "Bradbury gained notoriety around the world as one the 20th century's most important voices in science fiction."
In May, the children's literature world lost the iconic creator of Where The Wild Things Are, Maurice Sendak, the wildly imaginative voice of growing up everywhere. He was considered "a defining voice in children's literature as both an author and illustrator."
This December, we lost Jenni Rivera, the world-renowned Mexican-American singer and reality star. Rivera had "a wildly popular career as a singer and reality-television star and has sold over 20 million albums worldwide in addition to her mun2 reality series I Love Jenni." Millions of fans the world over mourned her untimely passing in a plane crash. Other iconic musicians to leave too soon included the and-you-don't-stop, intergalatic party-rights-fighter Adam Yauch of The Beastie Boys lost his battle with cancer in May. Fans the world over mourned the shocking loss of such a huge player in music and movies, as his Oscilloscope Laboratories is "now one of the most important distributors in the film landscape."
These two heavyweights weren't the only losses in music, which also included such big names as "sitar master and Oscar winner" Ravi Shankar, The Monkees' own lead dreamboat and television star Davy Jones, The BeeGees' founding member Robin Gibb, and At Last crooner Etta James. All of whom made huge marks within their respective genres. The loss of disco diva Donna Summer after a battle with cancer also shook the music world to its core.
In a tragic turn of events, director Tony Scott took his own life in August. Scott "rose to prominence in the 80s with Top Gun and Beverly Hills Cop II," He had recently co-produced the summer's alien blockbuster Prometheus with his brother," as well as several TV production credits including The Good Wife and NUMB3RS.
Others, including television actors Jack Klugman and William Windom of The Odd Couple and Murder, She Wrote also passed on in the past year. The men were 90 and 88, respectively. Dallas star Larry Hagman died of cancer complications in November, leaving behind a career that included I Dream of Jeannie, numerous stage productions, and several films like 1972's The Blob, and Oliver Stone's Nixon and Primary Colors. The comedian and actor Sherman Hemsley — star of movin' on up The Jeffersons passed away in July.
Sesame Street also lost two of its performers, director Emily Squires and puppeteer Jerry Nelson. Tom Cruise's mother in Risky Business, Janet Carroll also lost a lengthy battle with illness in May.
In the end, death will always be what comes after life, but the contributions of those we lost this year will reverberate within the industry for years and years to come. May they all rest in peace.
[Photo Credit: CHP/FameFlynet Pictures; Frazer Harrison/Getty Images; Carrie Devorah/WENN; Joseph Marzullo/WENN; WENN]
Follow Alicia on Twitter @alicialutes
More:
Fontella Bass, "Rescue Me" Singer, Dies at 72
Charles Durning, Veteran Character Actor, Dead at 89
Jack Klugman, 'The Odd Couple' Star, Dead at 90

Surprise! Kate Winset Marries Ned Rocknroll: Wedding Details