Patrick Dempsey Rescues Seattle Coffee Chain… By Buying It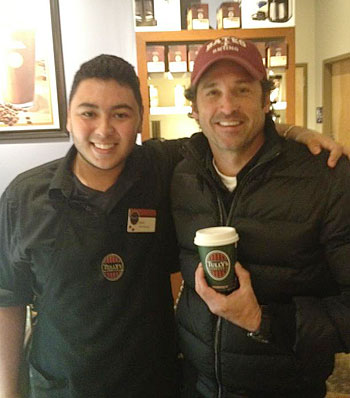 Patrick Dempsey to the rescue… again. This time, McDreamy wasn't lifting a injured teenager from a car crash, but saving Seattle-based coffee company Tully's from a corporate takeover.
Tully's was forced to close a number of locations and put itself up for auction after it filed for Chapter 11 bankruptcy on Oct. 10. Dempsey's Global Baristas investment team placed a bid for the chain at a private auction process on Thursday, and ultimately triumphed over massive coffee conglomerate Starbucks and five other interested parties. On Thursday night, Dempsey tweeted the good news by saying, "We met the green monster, looked her in the eye, and…SHE BLINKED! We got it! Thank you Seattle!"
In a statement issued by Dempsey to ABC News, Dempsey says, "Tully's is a great company with committed employees, and with its base in Seattle, one of the world's greatest cities, I'm confident we will be able to successfully build the brand and help grow the economy … Seattle has been very good to me over my career, and I am honored to have the privilege to own Tully's and work closely with the company's employees."
The Grey's Anatomy star also told ABC's KOMO-TV in Seattle that his main motivation for the buy was to save the jobs of people living in a city close to his heart. "People are passionate about this brand and about what's going on with the jobs in this city," he said. "To keep all those jobs in the company intact, that was a big turning point when it was decided that if you break it up, it's not something that's acceptable."
Dempsey continues, "I think some of the players involved in this deal want to take those jobs away, and you're looking at an economy that's rough to get jobs. I went by one of the stores yesterday and the employees are deeply concerned. That's one thing we care deeply about."
I'm sorry, I can't keep going. It's just too perfect. Congrats, Dempsey, for being a completely decent, kind-hearted, amazing, generous, adorable, sincere human being. We are not worthy.
Follow Abbey Stone on Twitter @abbeystone
[Photo Credit: Twitter]
More:
Did Patrick Dempsey Just Spoil McSteamy's 'Grey's Anatomy' Exit? — PICS
Patrick Dempsey Death Hoax: Other Celebs Still Alive & Kicking
Armie Hammer to the Rescue: Casting 'Justice League' with Real Life Superheroes

20 Hottest Bikini Bodies of 2012: Katy Perry, Miley and More!