5 Ways Patrick Stewart's Wedding Could Have Been Inspired by 'Star Trek'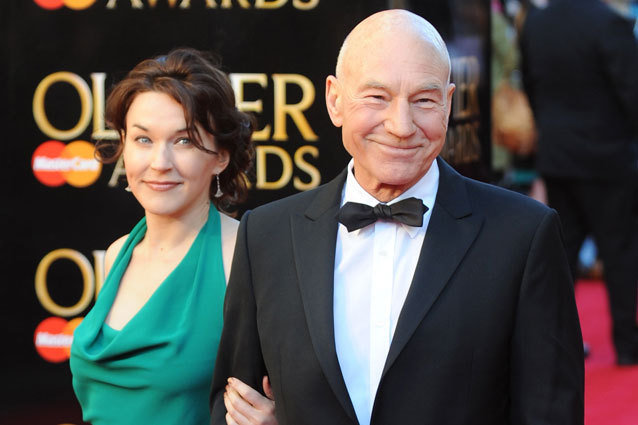 Zak Hussein/WENN
Sir Patrick Stewart finally married his long time girlfriend Sunny Ozell this weekend. Stewart's old friend, fellow knight and costar in three X-Men films, Sir Ian McKellen, proudly officiated what was surely a loving ceremony. But try as we might, we can't hear the name "Patrick Stewart" without immediately thinking "Make it so!" Though he hasn't played Captain Jean-Luc Picard since 2002's (terrible) Nemesis, we can't shake one question: What exactly would a Star Trek wedding look like? 
In Vulcan tradition…
A wedding on Vulcan can turn deadly in an instant. Most Vulcans are promised to one another as children, giving them a whole lifetime to plan a great wedding party. But Stewart, who is marrying for the third time, would want to invoke a ceremony called "kal-if-fee," a gladitorial match between the bethrothed and the new flame. The two battle to the death, and when the winner ascends from the arena. the ceremony goes on as planned. Vulcans definitely have an odd idea of what makes a fun party, but you'll keep those memories for life. 
In Klingon tradition…
Klingons might seem tough, but deep down, they love a sappy wedding just like the rest of us. The couple gather a huge group of friends and family in a cave, where they perform the entire history of the Klingon race. Part drum circle, part opera, part Bar Mitzvah, the pageantry ends with a simple recitation of vows and a kiss. But McKellen would have been out of luck — Klingon women officiate the ceremony and marry the happy couple. 
In Bajoran tradition…
The Bajoran people are a pious race, so their weddings are quiet and spiritual. Stewart has been open about how much he loves Ozell, so he would surely put a lot of thought into his traditional Bajoran vows. 
In Betazoid tradition…
Betazoids might actually have the oddest tradition of all. A couple who can literally read one another's every thought has nothing to hide, so the entire wedding is performed naked. The bride, groom, minister, and guests are all unclothed as a symbol of respect. If the bride and groom are lenient, the guests can choose whether or not to disrobe. But Captain Picard insisted that his entire crew adhere to the traditions when they attended a Betazoid wedding, so word to the wise: hit the gym. 
In Tribble tradition…
Tribbles are able to reproduce on their own, so there's not much use for them to have weddings, but, if they did, it would probably be fluffy, crowded, and… pretty annoying. Okay, maybe that's not the greatest inspiration. 
More:
Trekkies Vote 'Star Trek Into Darkness' the Worst 'Trek' Movie Ever
100 Years of Quietude: Sci-Fi That Broods
How Did Sci-Fi Becomes Such a Big Business?
---
From Our Partners:


A Complete History Of Twerking (1993-2013) (Vh1)


15 Stars Share Secrets of their Sex Lives (Celebuzz)