The Most Iconic Characters Ever Played by Peter O'Toole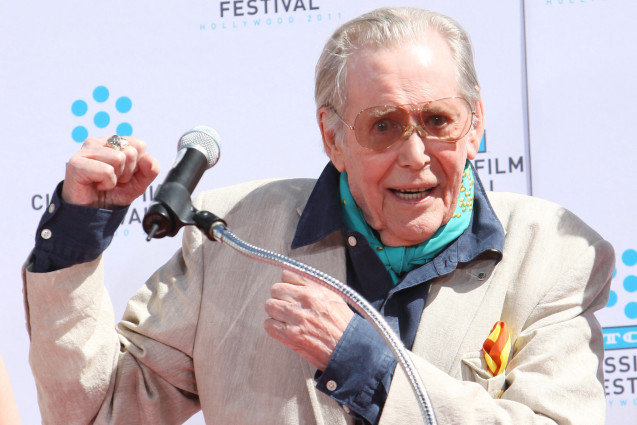 Michael Tran/Getty
Peter O'Toole, one of the most talented, charismatic, and esteemed actors of any generation, died on Saturday at the age of 81. With his charm and classical training, he starred in a great deal of the most famous and well-regarded films in history, and was nominated for 8 Oscars over the course of his career. Although he holds the record for the most nominations without a win, he was awarded with an Honorary Oscar in 2003, which cemented his role as one of the greatest film actors of all time. Over his 60-year career, he played a great number of iconic roles. Some of them only became cinematic icons after he brought them to live onscreen. Others are the kind of literary, historical, or theatrical icons that are reserved for only the most esteemed of actor, but all of them will forever be remembered as part of O'Toole's long, storied career. 
In remembrance of the late, great actor, we've rounded up all Peter O'Toole's most iconic film characters. 
T.E. Lawrence, Lawrence of Arabia
Arguably the most famous and iconic role that O'Toole ever played, the British military commander T.E. Lawrence earned the actor the first of his eight Oscar nominations and made him a household name. With a performance that perfectly captured the complex and divisive nature of his character and still managed to ground the epic scale of the film, it's no wonder that O'Toole will always be more closely associated with Lawrence's story than even the actual historical figure is. Although he was the first of many more significant and memorable roles to come, Lawrence of Arabia will forever be the iconic Peter O'Toole performance.
Henry II, The Lion in Winter
It takes a significant amount of talent and charisma to steal a scene away from Katherine Hepburn, but as Henry II, the aging king who refuses to leave his kingdom to either of his sons, O'Toole turns a major theatrical and historical figure into a cinematic icon. It was actually the second time that O'Toole took on Henry II, having played a younger version of the monarch a few years earlier in Becket, and that experience with the character seems to have served him well in delivering another unforgettable performance.
Don Quixote, Man of La Mancha
O'Toole actually played several characters in this musical, including the author himself, Miguel De Cervantes, but it's his portrayal of the knight-errant who is unable to tell reality from fiction that stands out as the truly iconic role. Don Quixote is one of the most famous literary characters of all time, and O'Toole perfectly blends the tragedy and comedy of his character to wonderfully bring him to life on the big screen, and ensures that his Don Quixote will forever be remembered as just as much of an icon as the character in Cervantes' story.
Robinson Crusoe, Man Friday
Although one of his lesser known films, O'Toole puts his own stamp on the famous character of Robinson Crusoe, the English explorer stranded on a deserted island. The film is designed to subvert many of the messages of the original Daniel Defoe novel, which allows O'Toole to switch things up and play a stiff, blunt, overly-proper Englishman, and showcase the range of his talent. It might not be as epic or dramatic as some of his other iconic roles, but in Man Friday, O'Toole is able to interpret another famous literary character in a new unique way while still delivering an incredible, memorable performance.
Sherlock Holmes
There is perhaps no literary hero more iconic than Sherlock Holmes, so it is perfectly fitting that O'Toole took on the role for several animated films in 1983. It's a testament to O'Toole's talent that despite only providing his voice for the character, he is still considered to be a vital part of the long, great tradition of esteemed English actors who have undertaken the task of bringing the world's only consulting detective to life on screen. Fun fact: O'Toole also played Sherlock Holmes' author, Sir Arthur Conan Doyle just over a decade later, in the film FairyTale: A True Story.
Professor Henry Higgins, Pygmalion
For a television adaptation of Pygmalion, O'Toole took on another role reserved for the most esteemed of actors when he played Professor Henry Higgins in 1983. Like Sherlock Holmes, his interpretation of the iconic professor will long be considered to be one of the greatest, an opinion which he solidified by reprising the role three years later on Broadway.
Zaltar, Supergirl
Yes, O'Toole was nominated for a Razzie Award for Worst Actor for his role in Supergirl, but it says something about O'Toole's talent and dedication that he still earns award nominations for what is widely considered to be his worst film. Despite this, he managed to make Zaltar an iconic character purely by portraying him onscreen, and also helped prove that just because an actor is both English and held in the highest of esteem, it doesn't mean that casting him in your superhero film will automatically improve its clout and quality.
Augustus Caesar, Imperium: Augustus
O'Toole took on the Roman emperor in 2003 when he played Augustus Caesar in the television movie Imperium: Agustus. The Caesar kin are the kind of iconic historical figures who are always played by the greatest actors of their day. Performers with enough talent and respect to make them almost as famous and iconic as the emperor they are portraying. It's only fair that O'Toole get his shot at the role, and took on Caesar as an old, aged man, looking back on the glory days of his life.
Anton Ego, Ratatouille
Sure, Ratatouille might not be on quite the same level as Lawrence of Arabia, but Pixar creates iconic characters in much the same way that giant, sweeping epics do, and when it comes to Pixar villains (or would-be villains), Anton Ego is among the finest. As the snooty, rude, condescending food critic, O'Toole helped to create a character that will make children cower in fear, all the while laughing at his humorous affect. Plus, as one of the few Pixar villains who changes over the course of the film, O'Toole also assisted in creating a character who is just as multi-dimensional as the ones he played in live-action films.