Politico and 'Time' Now Cover Baby Bumps? Everyone's Obsessed With Kim and Kanye's Baby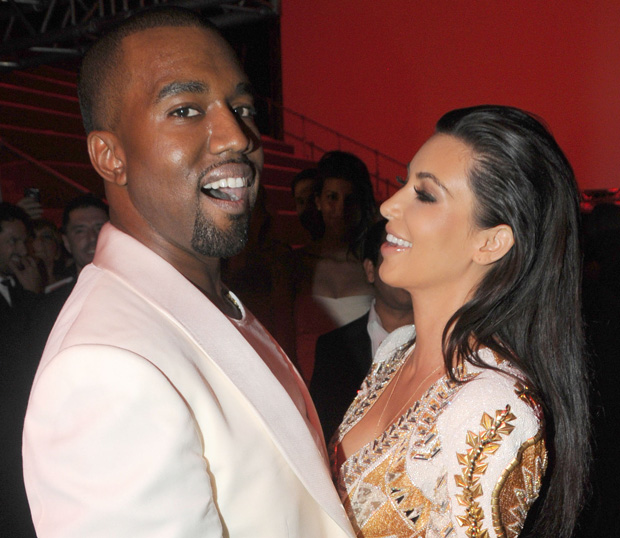 Celebrity news reporters see new headline potential every time Kim Kardashian eats a banana or posts a bikini photo to her Instagram. And when Kim and her beau Kanye West step out together — oh boy! Internet gold! But when the news that Kardashian and West are expecting a baby broke Sunday night, it spurred a media s**tstorm the likes of which we rarely see. Everyone and their mom, it seemed, was tweeting the big news. And soon, more than just the usual suspects — E! News, Access Hollywood, People, Us Weekly, etc. — were jumping on the Kimye baby bandwagon.
Hey, when Politico is writing about baby bumps, you know it's big news. Either that, or something very strange is happening — could the Mayans have just been off by a few days? Here are five media outlets that couldn't resist the clicky potential of a Kim/Kanye baby.
Politico: The political website used Kardashian's pregnancy as an opportunity to present its savvy readership with "Kim Kardashian, Kanye West pregnant with politics." Now that's a headline. Politico compiled a handy list of 17 instances of "D.C.'s intersection with these divas." Tell us more about that fiscal cliff, Politico, leave the celeb reporting to the pros.
Time: Time decided to take a break from deciding such weighty matters as naming the Person of the Year to tackle some gossip reporting. Today, the website for the world's most widely circulated weekly news magazine gave us not one, but two stories about Kardashian and West's Yep, that is "Kimye" in a Time headline.
The Fader: Usually, independent (re: hipster) music publications stay as far away from "baby bump" news as possible. And the editors of The Fader would probably rather burn their extensive vinyl collections than be caught reporting Kardashian news. But when Kanye's involved, all bets are off. Welcome to the dark side, Fader, we promise we won't tell the people over at Pitchfork.
The Guardian: Britain's highbrow daily newspaper has a thriving Culture section, but it generally leaves its celebrity gossip reporting to the Daily Mail or The Sun. They made an exception for Kanye West however, and Kardashian was along for the ride. Thanks to West, the news of Kardashian's pregnancy found a spot on the Music page — we doubt Kim's pregnancy would have been picked up by The Guardian if the father was, say, Kris Humphries.&
McSweeney's: The most hipster of all the hipster literary publications, the Dave Eggers' founded McSweeney's couldn't help but get in on the Kimye hysteria. Okay, so they didn't write up an actual post about Kardashian and West's imminent progeny, but they did tweet about it. Could this be the start of something, McSweeney's? We can't wait to read your Real Housewives recaps.
We thought our Twitter feed should get in on the action too: KIM KARDASHIAN IS PREGNANT, THE FATHER IS REPORTEDLY KANYE WEST!
— Timothy McSweeney (@mcsweeneys) December 31, 2012While the news of Kardashian's pregnancy has indeed transcended the bounds of celebrity gossip, it has yet to reach the level of ubiquitous reserved for the crème de la crème of celebrity baby bumps — namely, Kate Middleton's. Kim, get back to us when the New York Times or New Yorker picks up your story.
Follow Abbey Stone on Twitter @abbeystone
[Photo Credit: FameFlynet Pictures]
More:
Kim and Kanye's Baby: 6 Ridiculous Clothing Items for Their Newborn
It's Happening! Kim Kardashian Is Pregnant with Kanye West's Baby
Kardashian Family Christmas Card: Is that the Dead Cat?! and 4 Other Questions

Hillary Clinton Hospitalized for Blood Clot: Report