Unhappy Hour: Anne Hathaway's Bad Behavior, Obama's Sci-Fi Debacle & 12 More Reasons to Drink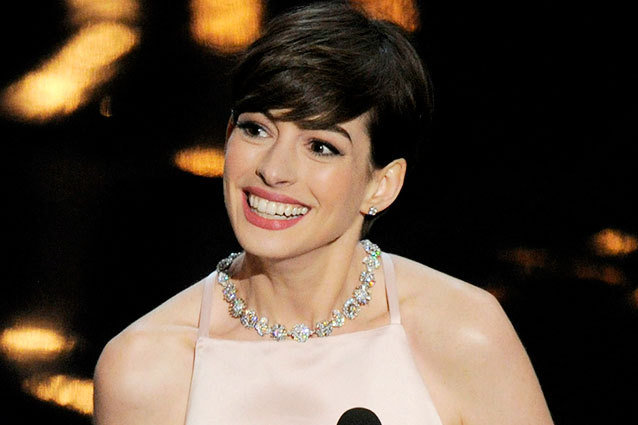 Each week, Hollywood gives us something to whine about, and the week of Feb. 26 was no different. We could make a drinking game out of this week, but that would be too dangerous. Instead, we'll stick to the usual formula: varying levels of alcoholic respite depending on how bothersome the week's issues are. Is your biggest complaint this week a flimsy one? How about a light cocktail to take the edge off? Got a real bone to pick with a celeb or entertainment entity this week? Go ahead, grab a drink that'll put hair on your chest. Here are the week's entertainment stories that are forcing us to seek a bubbly or boozy refuge. And maybe an idea or two about how you should wash them down.
Chill Out With a Glass of Wine
Anne Hathaway is Officially the Worst…: …Dressed of all time. Her Oscars dress was reviled (almost as much as her Oscar speech), and after Sunday night the actress' star had clearly been tarnished. 
Our Favorite Couples Keep Breaking Up: First Jason Segel and Michelle Williams, then Michael Sheen and Rachel McAdams. Why, cruel world, WHY?
Kanye Doesn't Give a F**k About the President: Okay, he doesn't give a f**k what the President thinks about him, but still. 
Take It Up a Notch: Pop The Champagne
Jennifer Lawrence Toked a Little Something: And we all lost our f**king minds. As a green-loving J.Law might say, "Dude… chiiiiiill."
Ben Affleck, My Adorable Best Producer of the Year Friend, Where is Your Beard?: This had better be temporary. 
Michelle Obama Went Too Far (According to Iran): Apparently, Mrs. Obama wearing a sleeveless dress in America during an Oscars broadcast is just like, the worst thing she could ever do.
Leave Zero Dark Thirty Alone: Just imagine me screaming this into a web cam with black eye liner around my eyes and a choppy Miley Cyrus 'do (before it was cool) while reading this latest greivance against the film Oscar refused to love.  
The Chris Brown/Rihanna-inspired Episode of Law & Order Creeped Us Out: But mostly because of the way it ended. 
Classiness Is Overrated, Where's the Tequila?
Everyone is Losing Their Minds Over President Obama's Star Trek/Star Wars Flub: It's not like he's running the country or dealing with elements of extreme importance.
People Are Horrible: Numerous Twitterers were spouting off about Robin Roberts' "new 'do" during the Oscars Red Carpet telecast, failing to catch the part where Roberts is recovering from pre-leukemia and chemo-therapy. 
Lindsay Lohan Wants to Give Advice To Other Humans: What's more is those humans are young girls. Thank God this isn't set stone in yet, because I might have to start building my apocalypse-proof bomb shelter.
Someone Said Something Horrible About Quvenzhané Wallis: It was a joke, and probably meant to poke fun at how obsessed we all are with her, but the part about making offensive jokes is that you can usually get away with them if they're funny. Go ahead and take a guess about which way this one went. 
Follow Kelsea on Twitter @KelseaStahler
[Photo Credit: Chris Pizzello/Invision/AP Images]
---
From Our Partners:


40 Most Revealing See-Through Red Carpet Looks (Vh1)


33 Child Stars: Where Are They Now? (Celebuzz)