The Pope Resigns! Benedict XVI First to Leave Post Since 1400s — But WHY?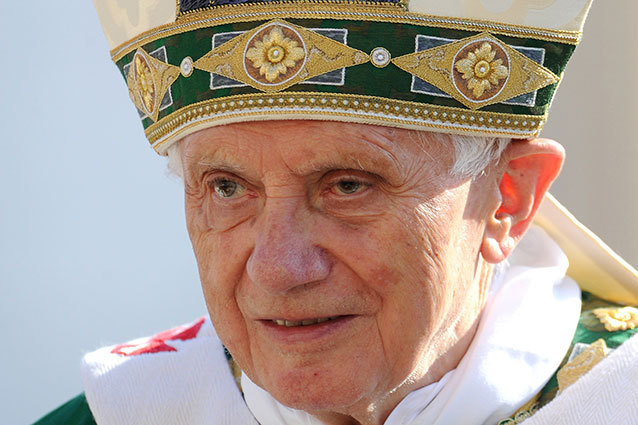 Heavy hangs the head that wears the big, sparkly, pentagonal hat. Pope Benedict XVI broke the wine-spilling — or blood of Christ-spilling —news on Monday that he'll be stepping down from his position on February 28, making him the first to resign from the papacy in almost 600 years (the last to abdicate being Pope Gregory XII in 1415, in that tabloids disaster).
In the past six centuries, we've seen a good deal of things come into existence — electricity, the inception of Calvinism, Andy Warhol (those are the big ones). And through this planet's tumultuous history, we've seen popes stand their ground. Almost nothing has been enough to purge the Vatican's master bedroom. So we have to wonder: Why now? Why him? Why, for the first time since Constantinople became Istanbul, has a pope decided to leave his post?
RELATED: Hillary Clinton Erupts at Benghazi Hearing; Don't Be Afraid to Let It Out, Politicians
Perhaps it is this ungodly era in which we live that has driven Benedict XVI from the Church — this post-Twinkie era of lip sync scandals and James Francos. But we're more inclined to believe that the former Joseph Ratzinger is fleeing the Holy See to pursue other passions. Perhaps to make his real dreams come true…
Fly Around the World
Little-known fact about Benny the 16th — dude's a freakin' pilot. Having obtained his helicopter license earlier on in life, perhaps Mr. XVI is finally going to make way for the wild blue yonder, heading off for wild adventures with his chimpanzee sidekick. Despite being able to legally operate aircrafts, however, the sitting pope never actually got his driver's license. Which brings us to another option…
Learn How to Drive a Car
Either that, or move to New York.
Spend the Rest of His Days on the Internet Looking at Cat Videos
Apparently, Pope Benedict XVI is so fond of the feline race that he earned a reputation in his pre-papal days of caring for neighborhood cats, even taking in a few strays. A children's book about Benedict's love for cats was written in 2008: Joseph and Chico: The Life of Pope Benedict XVI as Told by a Cat.
RELATED: Is It Sexist for Us to Worship Michelle Obama's Look? (No)
Write a Musical!
When he's not taking off in choppers and tossing yarn balls around with the local kittenfolk, the pope is known to be fiddling away on his piano, celebrating the works of Mozart and Bach. This ain't all for naught — the Grammys might well have been what inspired Benedict XVI to get in the music game. Hopefully, though, he isn't taking too many lessons from Taylor Swift…
Make a Papal Comeback in 2019
Justin Timberlake waited six years to make his comeback, and man did it… happen. Time is your friend, Benedict. Just mousse the hair, rent a tux, call up Jay-Z… the world will be yours.
Where do you think Pope Benedict XVI will go from here?
[Photo Credit: Tony Mondello/Wenn]
Follow Michael Arbeiter on Twitter @MichaelArbeiter
---
From Our Partners:

40 Hottest Celeb Twitpics of the Month (Vh1)

'Sports Illustrated' Swimsuit Issue: A Visual History (Celebuzz)