Marital Rape? 'Real Housewife' Melissa Gorga Says 'Okay!'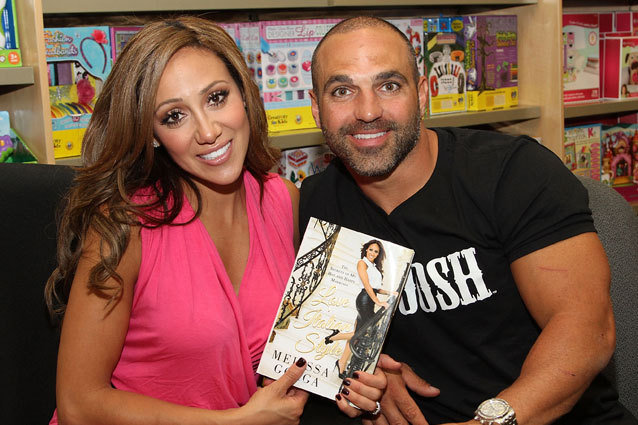 Manny Carabel/Getty Images
The Garden State has a lot to explain after Melissa Gorga of Real Housewives of New Jersey released a marriage advice book titled Love Italian Style. Her advice can easily be reduced to one word: SEX. Normally sex itself would be a problem, but just how Melissa's husband Joe Gorga gets it is where the controversy lies.
Despite Melissa sometimes feeling "exhausted" or "not really in the mood," she just can't seem to say "no" to her husband. If she does, well…here's what Joe thinks what "no" really means:
"Men, I know you think your woman isn't the type who wants to be taken. But trust me, she is. Every girl wants to get her hair pulled once in awhile. If your wife says "no," turn her around, and rip her clothes off. She wants to be dominated. Women don't realize how easy men are. Just give us what we want."

Not convinced that sounded a bit rapey? Well, here's a passage that essentially tells women to submit and become sex slaves for their husbands.
"[A] woman needs to keep herself in shape. She has to be seductive. She must be willing to try new things for her husband's pleasure and her own. And, most important, she has to be available for sex.
There's real passionate sex and maintenance sex. You need them both for a healthy marriage. Maintenance sex keeps the wheels greased, the lines of communication open, and the fights to a minimum."
Sex keeps "lines of communication open?" Well, Joe's Neanderthal brow does clearly indicate he is probably most expressive in an act of carnal fornication. 
Occasionally, Joe does manage to squeeze enough power out of his prehistoric brain to chime in with more of his misogynistic gems. Here's an example of the man's attempt to mask his profound insecurities (which basically echoes what Pat Robertson said months ago):
"Refusing to initiate is a Top Three reason men cheat. The ugliest girl in the world could come on to a man in that state of mind, and he might have to go for it. He thinks, At least someone wants me."
It's fairly clear that Melissa is in an abusive relationship. Here's a snippet that clearly shows she's just a punching bag for Joe's insecurities.
"If he gets one ounce of flack from me, he flips a switch and goes off. I know it's not really about me, so I don't get riled up. I supposed I could get angry back him for getting the bulk end of his problems. But then again, that's what a spouse is for. You get to release your stress on someone you trust, who you know won't hold it against you. He' like to yell at a colleague, client, or employee. But he yells at me and doesn't screw up a business deal. I can take it."
What's sad is there's 256 pages of this drivel. While the book's subtitle is "The Secrets of My Hot and Happy Marriage," it's hard not to shake off the feeling that she's simply a broken woman who has given in:
"I used to want to hold onto my independence, even after we got married. I didn't want to need anyone, not even Joe. Now, I know that it's arrogant to think you don't need anyone. Need is only a four-letter word if you don't accept it as another one. F-A-C-T."
More:
'Real Housewives of Miami' Season Premiere Gallery
Ranking 'Dancing with the Stars' Season 17 Lineup
What Networks Can Learn from 'Duck Dynasty' Premiere
---
From Our Partners:


40 Most Revealing See- Through Red Carpet Looks (Vh1)


15 Stars Share Secrets of their Sex Lives (Celebuzz)