Rihanna Instagrams her Marijuana Bouquet, Beyonce Spends $600 on her Nails, & Other Bizarre News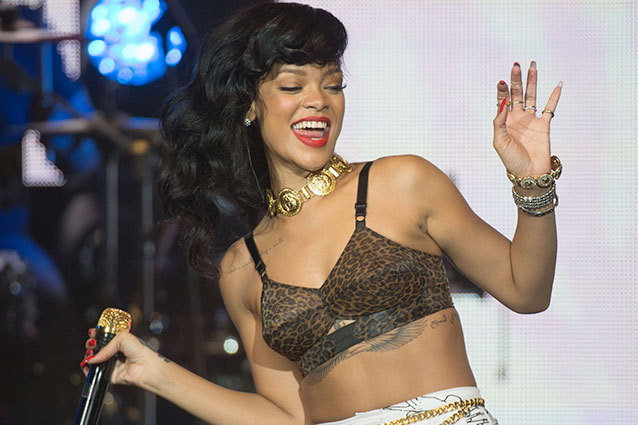 How to use social media: Share your feelings. Share your accomplishments. Share interesting stories and information. And most importantly, share cat videos. Did you notice the part where I said "expose your illegal drug possession on the Internet"? That's because I didn't say it — because it's a terrible idea and basically serves as a public record of your debauchery. Apparently, Rihanna doesn't see this is being a problem.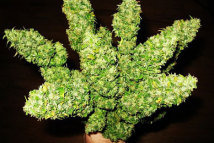 The singer posted an Instagram photo (left) on Valentine's Day of her present from "somebody" who "knows how to make" her "happy." Translation: Somebody (probably) named Chris Brown doesn't know how to give a thoughtful gift, so he bought her enough marijuana to knock out Tommy Chong so she'd be too stoned to notice. Of course, I doubt he made her post this picture on Instagram. Girl, you know there are people who've been arrested for posting Fight Club quotes as their Facebook statuses, right?
RELATED: Is Rihanna a Bad Girl Gone Too Far?
But Rihanna's not alone. Elsewhere in weird news…
Beyoncé Put $600 Dollars on It: What does it cost to turn a pop star into the Queen of America? Sixty dollars per finger nail, apparently. Queen Bey reportedly spent $600 dollars on a manicure for her video announcing the Mrs. Carter world tour. It just so turns out, that's exactly how much the tickets to all her instantly sold out shows are going for. [OMG]
RELATED: Beyonce Announces The Mrs. Carter Tour
Knut's Legacy is Immovable… Literally: The lovable miracle polar bear Knut, who was hand-raised after his mother rejected him, will live on as a motionless, taxidermied version of himself in the Berlin museum. So, if you never got a chance to see the cuddly cub tumbling around his cage in person, you should probably just stick to his YouTube videos. [Yahoo]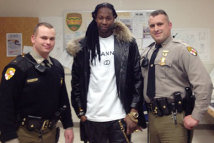 2 Chainz Takes a Fan Photo… From Jail: It's not surprising that another celebrity, and a rapper at that, was arrested on suspicion of drug possession. Rapper 2 Chainz is the latest to be picked up for allegedly carrying around a bit of Mary Jane, but it's not his cargo that's the bizarre part of the story. After he was arrested, he took a fan photo with the cops who locked him up and then posted it to his Instagram. This reverse-Rihanna just became my favorite unneccessarily grainy photo of the week! [Instagram]
Follow Kelsea on Twitter @KelseaStahler
[Photo Credit: FameFlyNet; Instagram (2)]
---
From Our Partners:

Kate Upton Bares All in Nothing But Body Paint: Video (Celebuzz)

Bradley Cooper Dancing Is Surprisingly Awkward, Sweaty (Vh1)