Bunch of Jerks on Twitter Don't Realize Robin Roberts Has Blood Disorder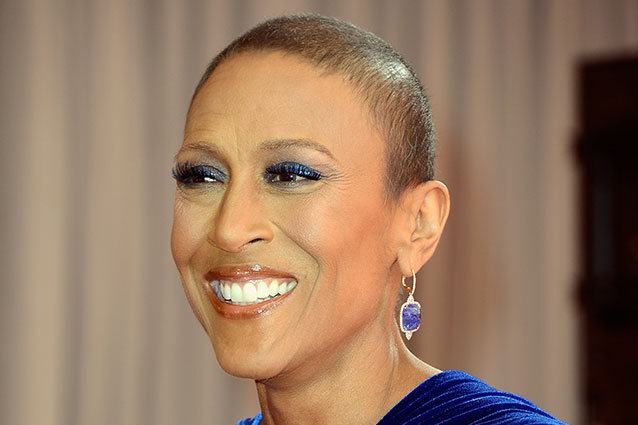 For those not living under a rock, Robin Roberts' battle with a rare blood disorder called MDS has been a public and courageous one. So when Roberts made her return to red carpet duty for tonight's Oscars, most people were incredibly supportive — and many more, still, were proud of her choice to wear her hair au natural.
Unfortunately, there are still rocks out there under which a special brand of buffoon live. And, man, do they love social media! Taking their cluelessness on parade, these superficial ignoramouses seemed to miss the memo on ABC's Oscar anchor. Feel like getting angry? Read on to see just how offensive and awful the Internet can be. I'm sorry.
RELATED: Shirley Bassey Does Goldfinger
Woah, Robin Roberts! Probably should have kept the hair. Looking like a cancer patient.

— Tyler Simpson (@Braintasm) February 25, 2013
I think Robin Roberts would be terrifying even if she had hair. #oscars

— Charlie Brown (@howihatehim) February 25, 2013
Eww, robin Roberts couldn't even put on hair??

— Troy Powell (@tjpowell82) February 25, 2013
I am not a fan of Robin Roberts short hair choice. Its a tough hairstyle to pull off as a woman. #Oscars2013 #BestDressed

— Brok Griffith (@plocktor) February 25, 2013
What's up with Robin Roberts' head. It's the oscars sweetheart, get some hair.

— Richard Fassett (@ClaudetteRubin) February 25, 2013
@mygeektime eww, Robin Roberts couldn't even put on hair?

— Troy Powell (@tjpowell82) February 25, 2013
robin roberts. one word "damn". she looks like a man. girl you gotta stop working on those arms and start working on your hair #Oscars

— Desiree Meg (@Mokha_Dee) February 25, 2013
Who did Robin Roberts hair? Looks like shit #OscarRedCarpet
— Dixie Lynn (@dixielynnelle) February 25, 2013
@jimnorton someone should tell Robin Roberts she looks horrible with short hair. I have no idea why she would shaved it

— Brandon Irwin (@BrandnIrwin) February 25, 2013
Sorry Robin Roberts, Charlize owned the short hair look tonight. #RedCarpet #oscars

— WristitRisto (@WristitRisto) February 25, 2013
 RELATED: Seth MacFarlane's Oscar Opener: Half Showstopper, Half 'Family Guy,' All Musical
[Photo Credit: Frazer Harrison/Getty Images]
Follow Alicia on Twitter @alicialutes
---
Oscars 2013 Special Coverage
---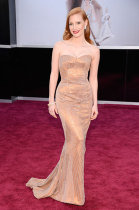 Oscars 2013 Red Carpet Arrivals: PICS!
• We Predict the Winners: Do You Agree?
• 15 Oscar-Winning Nude Scenes
• The Worst Best Picture Winner Ever
• Oscar's Problem With Pretty Boys
• Why Stars Should Fear Seth MacFarlane
• Oscars 2013: The Full Winners List
• The Winner, According to You