Sarah Michelle Gellar Expecting Baby No. 2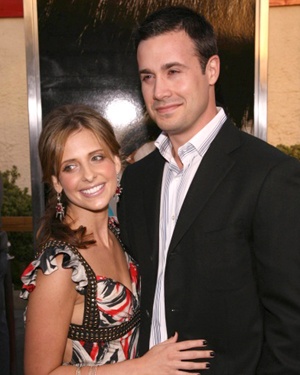 UPDATED: Ah, it's nice to see a celebrity couple that's still going strong! Sarah Michelle Gellar and Freddie Prinze Jr., who got married in 2002 and welcomed daughter Charlotte in 2009, are expecting their second child.
A source confirmed the news with Us magazine and a rep later confirmed the news to People. "She and Freddie are thrilled," said the friend. "They're amazing parents."
Gellar, who stars in Ringer, said recently that Prinze has enjoyed being a stay-at-home dad since she's been back at work. "He loves it. We fight over who gets to stay home," she explained. "You'd think it would be the opposite, that the parents would be like, 'No, I'll go to work!' but he's like, 'You stayed home for two years! It's my turn!'"
More:
Sarah Michelle Gellar: Queen of The CW's Leading Ladies?
Sarah Michelle Gellar Has Body Dysmorphic Disorder
Sarah Michelle Gellar and Freddie Prinze Jr. Deny Divorce Rumors
[Us]