How to Start Your Own Boy Band
Sony Pictures/Everett Collection
In today's economy, there aren't a good many industries on which you can rely. Yes, some things will always be fail-safe investments: apple sauce, bolo ties, cavern tours. But ranking above them all is the ageless phenomenon of the boy band. When the entity first hit American culture, we were skeptical. A handful of dudes? No instruments? Cacophonous flailing? But it caught on. And many long menudos later, we are still smack dab in the heat of boy band fever. As such, any frugal frontiersman of the American capital knows what what to do: get in on the action. Start your own boy band. And since we here at Hollywood.com are foremost a catalyst for the fiscal upswing of the common man, we're here to tell you just how to do it.
Part I: Get Some Members
Know a bunch of legitimately talented musicians with a passion for the craft and a vast appreciation for everything from Beethoven to Neil Young? Lose 'em! What you need is…
A dreamboat: The soft-eyed, half-smiling Aryan type who looks like he learned how to smile from watching the opening credits of Beverly Hills 90210.
A "dark side"-type: The brooding brunette, sensitive and in touch with his cerebral pangs. Someone you just want to hug to let him know that it's all going to be okay.
Maybe a thuggy one? From the streets… or, you know, that one kind of shady cul-de-sac across the street from the garden center.
Two other guys: Know any unemployed dudes who have nothing going on? (Does one of them have wacky hair?) They're in.
Part II: Style!
Think being yourself and devoting to your natural image is the way to go? Be a teacher. You're in a boy band now, take notes:
Hair: Frosted tips are always in season.
Clothes: Either too much or too little — something flashy, loud, and seemingly displaced in time. Or just go shirtless, shirtless works.
Accessories: No more than one member may bear each of the following: tinted sunglasses, tattoo, eyebrow ring, ankle bracelet, pet snake.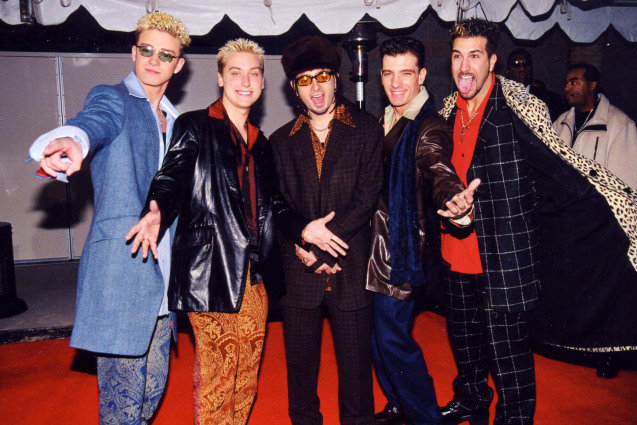 Jeff Kravitz/FilmMagic
Part III: Relationships
Here's one of the most important components of boy bandistry: your romantic relationships. You and your fellow members must abide by the following rules of the industry:
Date another pop icon: A fellow musician, preferably, although a budding movie star could also work.
Reunite with your high school sweetheart: Odds are, you're not presently dating the same person you were back in high school. If you are, good for you! If not, call the old flame up and organize a "just for the fans" romance. People really eat up the hometown love shtick.
Get a stalker: For the member of your band who is not presently ready to settle down, a stalker will do the trick. Since you're not famous enough to warrant one yet, maybe see if your best pal's creepy little sibling who had a crush on you back in elementary school is available. Send some tantilizing notes, just to fan the flames.
Way-too-early engagement: And for the member of your band who is far too ready to settle down, a fiancée! Doesn't matter who it is, the "But he's so young!" or "But they just met!" conceit will overshadow the actual human beings in question.
Part IV: The Music
Immaterial.
Part V: The Breakup
However much you grow to love the gig or your fellow band members, you must terminate things while they're still hot. You want people begging for a reunion, not groaning over the group that just doesn't know when to quit. Here are a few acceptable reasons to offer:
Solo careers: All of your members (or at least the two most important ones) decide to pursue careers of their own, be it in music, acting, production, or something weird like writing. 
Creative differences: Spats like these happen all the time. Maybe one member gets too controlling. Maybe another is concerned about selling out, wants to get back "to the art" of it all. Have fun with this one!
Love triangles: The most volatile choice of them all — could it be that a mutually beloved third party got between two members? Egad, the drama! The headline-worthy drama! It's a risky course of action, but when it pays off, it really pays off.
So there you have it. Your own five-part, fail-safe guide to starting your own boy band. We wish you the best of luck — you're fighting the good fight.
More:
Justin Timberlake Is Producing 'The Idolmaker'
The *NSYNC Reunion Was Kinda Weird
Justin Timberlake Recorded '20/20′ Part II in 20 Days
Follow @Michael Arbeiter
| Follow @Hollywood_com
---
From Our Partners:


40 Most Revealing See-Through Red Carpet Looks (Vh1)


15 Stars Share Secrets of their Sex Lives (Celebuzz)