Stephen Baldwin Gives his Best Blue Steel in Mugshot — PIC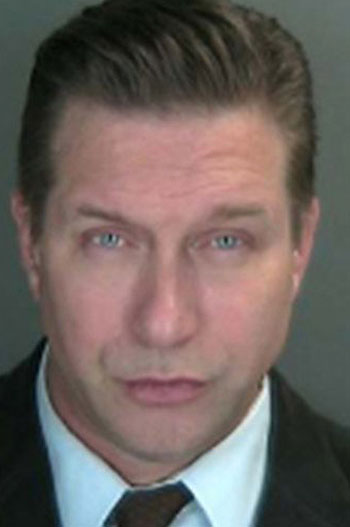 Is Stephen Baldwin trying out for a Right Said Fred "I'm Too Sexy" video remake? He wishes. The above photo is not a casting card, but Baldwin's mugshot, taken after he was arrested in Rockland County, New York on Wednesday for failing to pay his income taxes. Nice, Baldwin.
On second thought, Baldwin may want to think about convincing the Fairbrass brothers to actually do a remake because it sounds like he sort of needs the cash. According to a Rockland County District Attorney press release, Baldwin failed to file his New York State Personal Income Tax Returns in 2008, 2009, and 2010 — and now he reportedly owes $350,000 in liabilities, penalties, and interests.
"At a time when Rockland County and New York State face severe fiscal shortfalls, we cannot afford to allow wealthy residents to break the law by cheating on their taxes," District Attorney Thomas P. Zugibe says in the release. "The defendant's repetitive failure to file returns and pay taxes over a period of several years contributes to the sweeping cutbacks and closures in local government and in our schools. My Office will continue to investigate and prosecute those who cheat our tax system for their personal gain."  
While he was released on his own recognizance, if Baldwin is convicted of repeated failure to file personal income taxes, which is a class "E" felony, he could spend up to four years in prison.
Follow Lindsey on Twitter @LDiMat.
[Photo Credit: Rockland County District Attorney]
More:
Matthew Fox Gets His Very Own Mugshot — PIC
It's A Girl! Tom Brady and Gisele Bündchen Welcome Daughter Vivian
Will Michelle Obama Attend the Grammys? Your Burning Questions Answered!

Shakira Shares First Snapshot of Baby Boy in Ultrasound (PHOTO)

Demi Moore Caught Dirty Dancing Next to Lenny Kravitz, Making Out With Rumored New Beau in Miami (PHOTOS)