Susan Boyle Is a Doctor Now — Really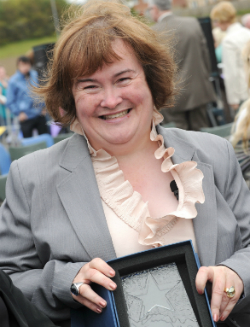 She's been a reality show finalist, a YouTube superstar and the subject of her own stage musical. And now, British singer Susan Boyle can add one more accolade to the list: doctor.
The 51-year-old was awarded an honorary degree on Friday from Edinburgh's Queen Margaret University in Scotland, where she studied as a young woman. 
The first time around, she admits she didn't have the easiest time at school. "I found it difficult to write my letters," she's said. "I also suffered from what psychologists call cognitive difficulties. I knew the answers to questions but couldn't express what I was thinking."
And this time, it didn't take much actual time on campus to earn her degree. Too bad, really. How much would you love to see her eating Ramen in a dorm room?