Team USA: Women's Soccer Team Snags the Gold and the Spotlight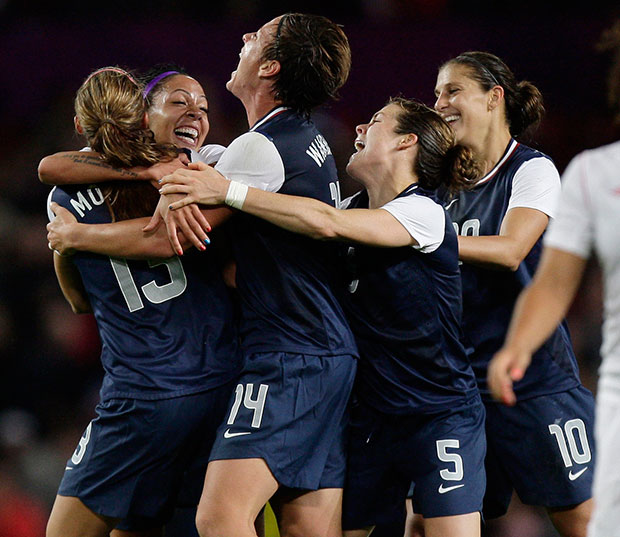 I'm not much of a sports fan, and soccer was always low on the list of sports I found bearable to watch — nestled somewhere behind football but ahead of basketball. The World Cup, however, was another story. Much like with the Olympics, I love the camaraderie the World Cup inspires. I love rooting for the home team, I love following the players' stories, I love the way the sport casually insinuates itself into every conversation amongst friends (and strangers). And it was while watching the 2011 Women's World Cup that I was first introduced to the women who would become the stars of this 2012 London Olympic Games.
In July of 2011, I joined a record 13.46 million Americans in watching as Abby Wambach, Alex Morgan, Megan Rapinoe, Hope Solo, and the rest of the team suffered their devastating loss against Japan in the finals. After over 120 minutes of intense play, it all came down to penalty kicks, and the US walked away only second best in the world. Thursday's USA vs. Japan gold medal match in London was America's chance for redemption. It was also, for me, the single most anticipated moment of the Olympic games. If you would have told 12-year-old gymnastics-obsessed Abbey that she would be looking most forward to a soccer game, she would have laughed in your face.
But for 90 minutes on Thursday, I pushed Lady Gaga and Lindsay Lohan to the back of my mind to focus on the true celebrities of the day. Because that's who these women are: celebrities. Even before Hope Solo competed on Dancing With the Stars, these players were stars on the field and in the media. Always humble, gracious, charismatic, and infinitely likable, the US Women's National Team is a team you want to root for.
So often, professional athletes become superstars for their antics. Their infidelities, lawsuits, temper tantrums, and turbulent relationships — and not their athletics — land them in the headlines. We all know that Tiger Woods has a sex addiction, but do we remember how many PGA titles he's won in the past year? (Three.) Was anyone, besides NBA fanatics, aware that Kris Humphries played for the New Jersey Nets until he married Kim Kardashian? How refreshing, then, to find a group of athletes who are known first and foremost for their soccer skills. And secondly, for their charm.
Minutes after scoring the game-winning goal in the nail-bitingly close semi-final game against Canada, Alex Morgan spoke to MSNBC. Fighting back tears and gasping for breath, Morgan appeared absolutely giddy, shocked even, at her win. "I was saying the whole time, 'I don't care who scores, as long as we friggin' score and as long as we win, that's all that matters,'" she said. Never one to steal all the glory for herself, Morgan added, "I was just trying to be in the right position, and it just so happened that I was and I can't believe it." Morgan's, and the rest of her team's, modesty is something seen all too rarely in professional sports.
I may be burying the lede a bit here, but the US walked away from Thursday's game as gold medal-clad victors, thanks to two goals scored by midfielder Carli Lloyd. As the 18 women bowed their heads to receive their medals atop the podium, nearly all of them close to tears, I couldn't help but wonder how many little girls will be inspired to try out for the soccer team. How many teens will decide that Hope Solo and Alex Morgan — and not Kristen Stewart and Miley Cyrus — are their idols?
Thanks to the women who comprise the US women's soccer team, I have become invested in the world of soccer. I care about the outcomes of these games in a way I never have before. But I must say, it's still not about the passes and the goals for me. I can't tell when someone is off sides; I'm not sure what deserves a yellow card. I do, however, care about Wambach, Morgan, and Solo. These women have a magnetism that makes you want to jump out of your seat and cheer — even for a sport you never really appreciated. 
Follow Abbey Stone on Twitter @abbeystone
[Photo Credit: Jon Super/AP Photo]
More:
London 2012: How to Create an Olympic Superstar
Michael Phelps and Megan Rossee Aren't the Only Olympic Lovebirds