Home
Celebrities
'Teen Mom' Jenelle Evans: Second Pregnancy or Publicity Stunt? 
'Teen Mom' Jenelle Evans: Second Pregnancy or Publicity Stunt?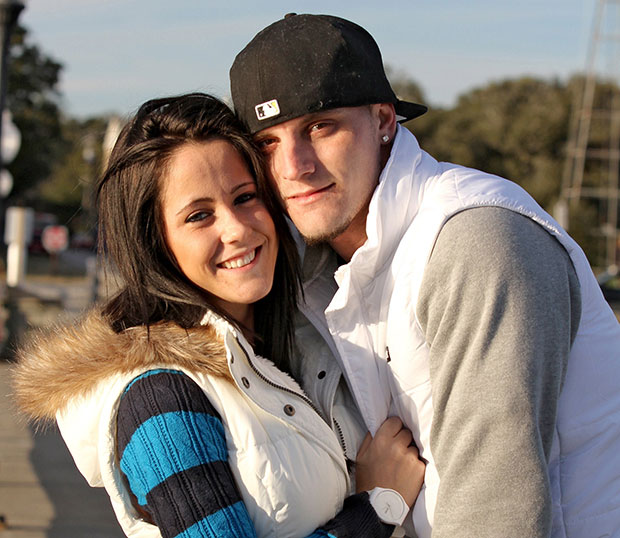 Teen Mom 2 star Jenelle Evans, 21, is the poor man's Kim Kardashian. 
Strip away Kim's mansion, the fancy clothes, the celebrity friends, and you start to see the similarities: for both, their fame is rooted in a sexual indiscretion (an unplanned pregnancy for Evans and a sex tape for Kardashian), they battle family drama, bad exes, sudden marriages, and most interestingly, both reality TV stars are watchers — and engineers — of their own publicity. 
Now, like Kardashian, the Teen Mom star is making headlines for a surprise pregnancy. And I just can't shake the feeling that it all feels so manufactured. 
Don't get me wrong: it's not much of a leap to believe that Evans could have "missed a few birth control pills," as she told MTV Act. The mom of 3-year-old son Jace has clearly made that mistake before. But this is a girl who's lived the past few years doing anything — and everything — to extend her 15 minutes. And like the boy who cried wolf, her cumulative fakeness is starting to catch up with her. 
Maybe my skepticism comes from the very public way she broke the news. Evans' husband (and apparent grammar genius) Courtland Rogers first spilled the beans to Star magazine: "Me and Jenelle are so happy that she's pregnant". 
Then on Wednesday afternoon, she confirmed the news to MTV. "I missed a few birth control pills, and found out I was pregnant at a doctor's appointment," she claimed. "I was really surprised. This wasn't planned, but it happened, so we're taking it as we go. Courtland and I are happy and excited now. We know having a child can be difficult, but we're going to do our best."
The story quickly hit the national stage, even becoming a trending topic on Google News. This, just days after Evans' latest nude photo scandal hit the web. And just three episodes into the show's new season. Curious timing?
THE NEW ERA OF REALITY STARS
In this age of "scripted" reality shows and media-manipulating celebrities like the Kardashians, the new generation of reality stars have become quick studies. Instead of emulating film or real TV actors, they're students of the Heidi Montag and Spencer Pratt School of Acting. (Thank the former Hills stars, who became infamous for their increasingly ridiculous set-up paparazzi shoots, for setting the stage for the Courtney Stoddens, OctoMoms and Teen Moms of the world.)
Reality Star Lesson No. 1 in the Montag/Pratt School? The show must go on, even after the cameras stop rolling. 
Like the obsessed magicians in the 2006 Christopher Nolan film The Prestige, who lived an elaborate lie 24/7 just to experience the isolated moments of public adoration on stage, the new reality star is determined, deliberate and often desperate to keep the spotlight shining, long after it should have dimmed. 
Evans, who got her first real taste of widespread fame in 2011 after a brutal, bloody fistfight spread on YouTube (see below), became Teen Mom 2's breakout star for her wild temper and unending stream of drama. Viewers loved the crazy. And she seemed happy to oblige. 
Even when TV cameras weren't running, she appeared to become the producer of her own reality, burning through every major celebrity magazine touchstone at a breakneck pace: a custody battle, a breakup, plastic surgery (she Tweeted pics of her new breast implants), a sex scandal, substance abuse issues, a wedding, an arrest, and now, the surprise pregnancy. 
Is it conceivable that the new age of reality stardom involves faking a pregnancy — or even getting pregnant for publicity? You be the judge. 
But, excuse my skepticism, Jenelle, if you do indeed pop a baby out in nine months, after paparazzi snap you packing your bags, you Tweet a pic from the hospital and a magazine publishes "insider" details of the birth. Or I guess I'll just watch it all on your inevitable spin-off show. 
[Photo Credit: WENN]
More:
Jenelle Evans, 'Teen Mom 2' Star, Married — Is Her Husband a Criminal?
Teen Mom's Jenelle Evans has charges dismissed
Teen Mom 2 Star Jenelle Evans Arrested for Drugs and Assault

Jeremy Renner Gets a Girl Pregnant — Huh?