'The Bachelorette' Contestant Jef on Love, Being a Husband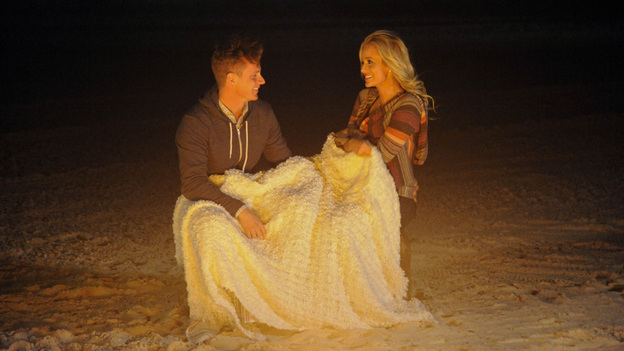 It seems as though Jef Holm has family on the brain! The Bachelorette contestant and Emily Maynard favorite took some time out to talk to Hollywood.com about his future on the show, why Emily is so special, and whether or not he knew about Arie's relationship with producer Cassie Lambert.
When it comes to the moment Jef joined the frontrunner pack (his one-on-one date with Emily in London), Jef was nervous, but also wanted to take things slow out the gate, explaining that "it was all about timing." When it finally came time for Jef to lay one on Emily, he felt it "was the most anticipated kiss and the best kiss of my life by far."
That intense? Apparently so! Jef said that it was all about everything aligning perfectly: "the placement and the setting and the surroundings, the girl and our chemistry and everything was perfect." Is he mad about waiting it out while the other guys were already sneaking kisses from her? Not at all! He went on to say that he was "really glad" to wait and that he "wouldn't have it any other way then to wait for it like we did, because it made us both want it." Aww shucks, true love DOES wait. Though Jef explains it was a bit more tactical than that, saying he "was trying to figure my situation out on the show and she really wanted me to kiss her and when it happened, it was awesome. it was the right timing and then our relationship just started to blossom from there."
Jef, unlike Alessandro and Kalon, is looking forward to a life where he gets to play dad to Ricki and thinks the young girl already takes after her mother. "If she's anything like Emily, then she has an amazing head on her shoulders … she is an amazing, amazing girl." As for his future as a father, Jef explained that he "can't wait to be a dad and I can't wait to spend time with my kids and have a family." If it is or isn't with Emily, Jef explains that he "can't wait to have a family some day no matter who it is … I want to be that type of dad that is just fun and hangs out with my kids and plays with them and we travel together." However, Jef wasn't shy about saying that if it IS with Emily, that he can "see [himself] fitting into the role of being a father to Ricki and a husband to Emily" pretty easily.
One thing that Jef thinks he won't be, though, is an overbearing father, explaining that when his daughter comes to him with a boy to meet, he's "going to be waiting by the door with two skate boards. We'll go hang out together and skate and get to know each other instead of intimidating him with a shot gun." Sounds like Jef is making plans to be the "cool dad" on the block in Salt Lake City!
Do you think Jef would make a good match for Emily? Let us know your thoughts below.
Additional reporting done by Lindsay DiMattina
Follow Alicia on Twitter @alicialutes
More:
'The Bachelorette' Contestant Jef On His Rivals
Is Emily Maynard Going to Cut 'Bachelorette' Favorite Arie? — VIDEO
'The Bachelorette' Recap: The Trophy Wife of Croatia