Nancy Jo Sales Finally Responds to That Outstanding Voicemail from Emma Watson's 'Bling Ring' Model Alexis Neiers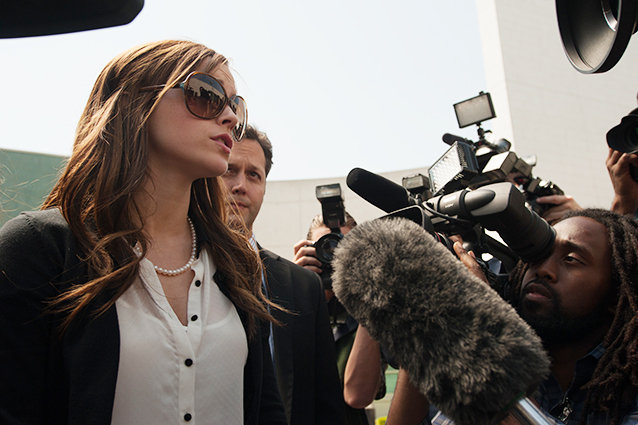 When you actually have to tone down the absurdity of a real life story and its characters for a big screen adaptation, you know you're digging into a pop culture goldmine. The true events on which Sofia Coppola's new release The Bling Ring are based are so vehemently outlandish that you'd going to be hard-pressed to believe they could ever have taken place… that is, we would be if we hadn't been graced with the glories of this reality TV phenomenon a few years back.
Those of you adhered to the buzz will remember with particular clarity (due to the number of YouTube replays you likely enjoyed) the phone call between Alexis Neiers, the Bling Ring member embodied by an off-the-wall Emma Watson in the film, and the voicemail machine of one Nancy Jo Sales, the Vanity Fair editor who explored the jarring story of the group of privileged Hollywood teens who made a hobby out of burglarizing the homes of the rich and famous. In response to the article, a tearful Neiers called Sales with a laughably vapid profession of angst, attempting to air her grievances through explosive thoughts and an interrupting mother. Joel McHale has a ball with the tailor-made-for-The Soup clip below:
Now, in light of The Bling Ring's release and a newly revived conversation about the ordeal, Sales herself chimes in with the below response to The Huffington Post:
"I'm so glad I didn't pick up the phone, because she was in distress. It would not have been a productive conversation. But if I had been able to talk to her I would have reassured her that the Vanity Fair article — which was very straightforward and made no judgments about her innocence or guilt — would have no bearing on her adjudication whatsoever, which it didn't. It was just a magazine article and it really meant her no harm, and I don't think did her any harm. Her case was her case. She pled no contest to burglary, which is a strike offense in the state of California. I think that says it all that she pled no contest. She got a 180-day sentence, which is an extremely light sentence for this offense, and she did 29 days. So I don't think Alexis Neiers has a whole lot to complain about at this point."
Considering the fact that the whole reason she got into the burglary business was to achieve notoriety, she sure doesn't. She got a reality show, a phone call clip that went viral, and now a movie about her story wherein she is played by one of the most beloved young actresses in Hollywood today. Face it, those of you who still believe that justice prevails… Alexis Neiers kind of won.
Follow Michael Arbeiter on Twitter @MichaelArbeiter | Follow hollywood.com on Twitter @hollywood_com
More:
'The Bling Ring' Review
Who Should Play Our Favorite Reality Stars in Movies?
'Bling Ring' Attacks Celeb Confessions with Hilarious Emma Watson
---
From Our Partners


Stars Pose Naked for 'Allure' (Celebuzz)


Let's Translate Walter White, Taylor Swift and More into Dothraki (Vulture)