The Inelegant Emmys: Four Winners and Their Shameless Stunts

For some, Sunday's 2012 Primetime Emmy Awards were all about fierce competition and gaining notoriety amongst their Hollywood television peers. Stars had their sights set on the gold trophies, and when the win wasn't handed to them, their hopes, dreams, and confidence all came crashing down around them. But then there were some stars who seemed to take the day a little less seriously. Hell, let's be direct. There were some stars — like Lena Dunham, who was nominated three times but didn't take home one trophy, and Sofia Vergara, who was only named the sexiest woman on television — who made a game out of the day. And some of the celebrities who fell into this category even took the fun and games to a whole different level by turning their day's antics into crude and crass acts that they proudly displayed on the internet via social media.
These crazy celebrities photos are the ones that we think deserve their own unique trophies because they just weren't afraid to let loose and have some fun. So, in our own mini crazy competition, we give you the Inelegant Emmys.
Outstanding Undies
Jesse Tyler Ferguson shows off his under-suit attire. "Spanx awayyyyyyyy! #Emmy Day!" he captioned his heroic pose on WhoSay. Too bad the Modern Family actor didn't continue in his Tom Cruise-Risky Business look onto the red carpet. That sure would have given Giuliana Rancic something to talk about.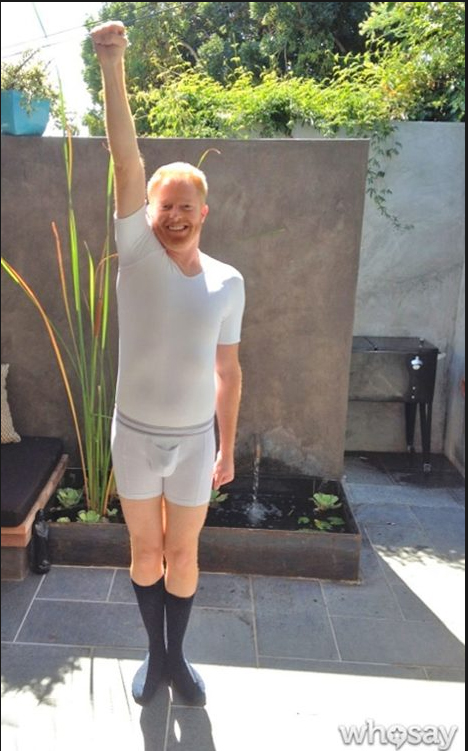 Best TV Butt
As if a win for sexiest woman on television wasn't enough for Sofia Vergara, the Modern Family actress decided that the whole world needed more of her assets and proudly displayed her butt cheeks on WhoSay for all to see.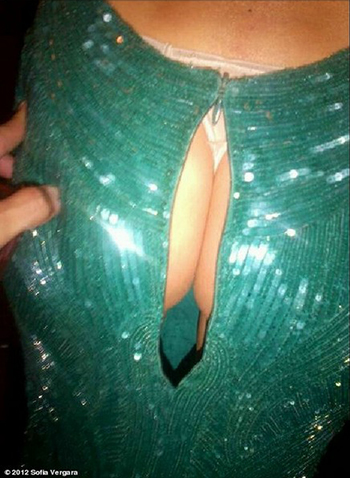 Supporting Bowel Movement
We've seen his humor executed in the hysterical HBO series Girls, but even off-screen, executive producer Judd Apatow likes to be bold and brazen. Especially when it comes to bathroom jokes. Apatow decided it was a grand idea to share a picture of a dirty urinal from the HBO Emmys after party on Twitter. Thankfully, he left it at just that and refrained from tweeting from the actual toilet.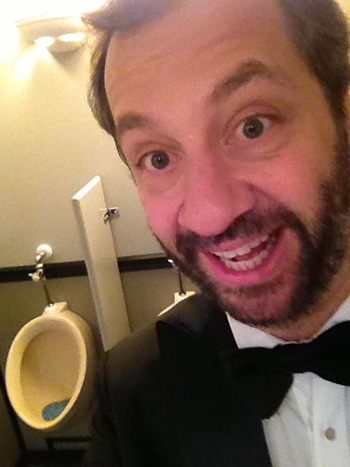 Lead Actress in a Cake Eating Contest
While other celebrities were munching on celery sticks and carrots trying to keep the petite frames slim so that they could fit into their dresses, Girls star Lena Dunham opted for a more tasteful treat: a whole cake to be precise. Dunham instagramed her Emmy breakfast, fork and cake in hand.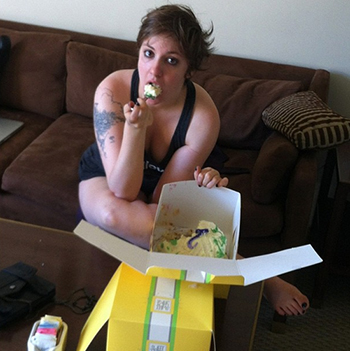 Follow Lindsey on Twitter @LDiMat.
[Photo Credit: WhoSay, Twitter, Instagram]
More:
2012 Emmy Awards: See the Full List of Winners Here!
Emmys 2012: How Did 'Girls' Win Nothing?
Emmys 2012 Red Carpet: Who Were the Fashion Winners?
From Our Partners:

Ripped! 19 Muscular Mothers — GALLERY
(Celebuzz)

(Celebuzz)