The Simple Answer to All of Lindsay Lohan's Problems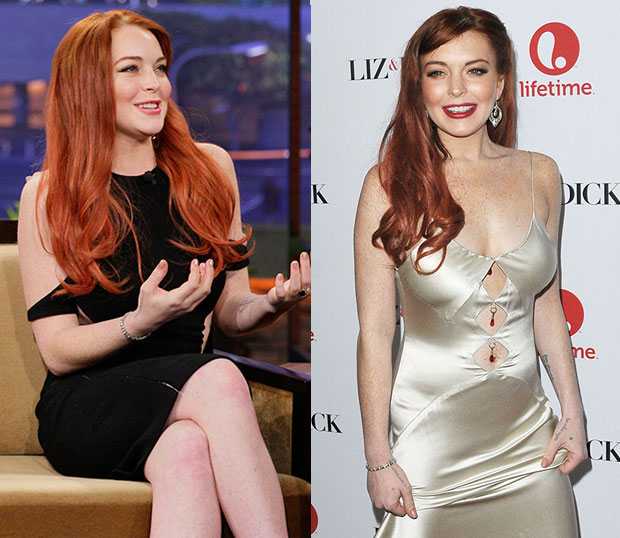 I have just discovered the solution for all of Lindsay Lohan's problems. Ms. Lohan, pictures of whom you can find by Googling "train wreck celebrities," is notorious for her legal woes, family battles, and substance abuse, but the real answer to turning her life and career around lies not in counseling, rehab, or probation. What Lindsay needs is a new stylist.
Sitting next to Jay Leno on The Tonight Show Tuesday night (video below), Lohan was able to nonchalantly field questions about her personal troubles, laugh at her headline-making ability, and speak coherently (if not eloquently) about her role in the new Lifetime drama Liz & Dick. She looked, however, like a hot mess. Between her straw-like wig of red locks, unmovable forehead and cheeks, and ill-fitting dress, it was hard to take anything Lohan said seriously. I almost missed the part of the interview where Lohan talked about meeting with Elizabeth Taylor's real-life nurse because I was so struck by the fact that she looked like a melting wax figure. Are you talking, Lindsay? My brain can't hear you because it's too busy wondering if your dress' cutouts are revealing your torso or a layer of mesh.
Let me be perfectly clear: my advice for Lohan is not shallow critique. I'm not just pointing to the fact that Lohan consistently wears ugly and inappropriate clothes (although this is true). I rather feel that Lohan is doing herself a disservice by leaving the house looking like her four-year-old neighbor convinced her to play dress-up. Let's take Lohan's red carpet ensemble from Tuesday's Liz & Dick premiere for Exhibit B. I'm not sure any woman wearing red jewels so close to her belly button has ever been taken seriously before.
Fans of What Not to Wear and anyone who has gone to a job interview know that you have to dress for success. And for someone like Lohan, whom most everyone expects to generally be a disaster, it is especially important to look like a person and not a mannequin from Caché when stepping out in public. Lindsay needs a look that says, "I am as in control of my mind as I am of my wardrobe." Or at least, "I am competent enough to put clothes on my body without people wondering if I lost the electricity in my house." Once she has conquered this, then she can move on to, "I'm back, bitches." Baby steps.
Follow Abbey Stone on Twitter @abbeystone
[Photo Credit: Adriana M. Barraza/WENN; Paul Drinkwater/NBC]
More:
Lindsay Lohan Goes Cleopatra in 'Liz & Dick' — PICS
Lindsay Lohan Gets Off Scot-Free for Alleged Hit-and-Run
Lindsay Lohan to Appear on Barbara Walters' '20/20′

Prince William Shares Personal Snapshots of Royal Air Force Life (PHOTOS)
(Celebuzz)

Rihanna Curses Out Band in Mid-Song, Fends Off Streakers and Rioting Reporters: See 6 Out-Of-Control Moments During Her 777 World Tour
(Celebuzz)