The World According to Kanye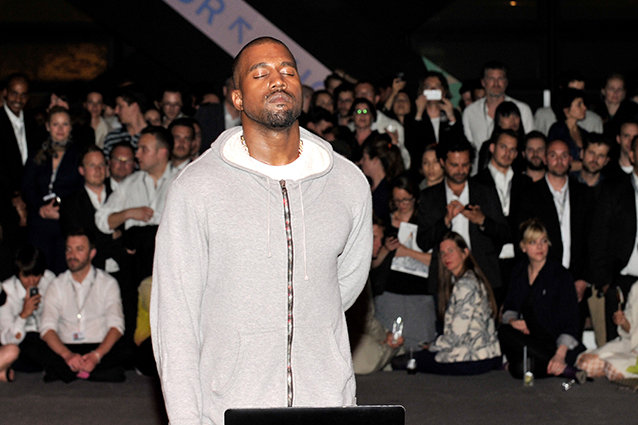 The Image Gate/Getty Images
Kanye West is amazing and we know this because he reminds us. All. The. Time. West fancies himself to be a legitimate artist, and if one thing is true, he's definitely made an art out of pretension.  In his 2-part BBC interview with Zane Lowe, West did not fail to deliver his oh-so-humble views of himself to us peons. Here are some of his latest, greatest Narcissi – er, Kanyeisms.
Kanye has surpassed Michael Jackson and is basically Rosa Parks 
"I've got to a point that Michael Jackson did not break down. I have reached the glass ceiling, as a creative person, as a celebrity…and I've been at it for 10 years. I look around and I say, 'Wait a minute. There's no one around here in that looks like me. And if they are, they're quiet as f**k.' So that means, wait a second — now we're seriously like, in a civil rights movement."
He ain't saying she's a gold digger…
"[Kim Kardashian] was in a powerful enough situation where she could love me without asking for money. Which is really hard for me to find."
Kanye is the new Elvis
"When I see Hedi Slimane and it's all like, okay, this is my take on the world. Yeah, he's got some nice $5,000 jeans in there. It's some nice ones here and there, some good shit here and there. But we culture. Rap the new rock and roll. We culture. Rap is the new rock and roll. We the rock stars. It's been like that now for a minute, Hedi Slimane! It's been like that now for a minute. We the rock stars, and I'm the biggest of all of them."
No one appreciates Kanye's genius
"I shouldn't be limited to only one place of creativity. You guys don't understand — I did the Air Yeezys and they eBay'd for $90,000…but I didn't get a call from Nike the next day."
Lady Gaga doesn't know s**t about cameras
"Look at Gaga. She's the creative director of Polaroid. I like some of the Gaga songs. What the f**k does she know about cameras?"
Kanye is a god and if you don't like that, blame the government
"We got this new thing called classism. It's racism's cousin. This is what we do to hold people back. This is what we do. And we got this other thing that's also been working for a long time when you don't have to be racist anymore. It's called self-hate. It works on itself. It's like real estate of racism. Where just like that, when someone comes up and says something like, 'I am a god,' everybody says 'Who does he think he is?'
"I just told you who I thought I was. A god. I just told you. That's who I think I am. Would it have been better if I had a song that said 'I am a gangster' or if I had a song that said 'I am a pimp.' All those colors and patinas fit better on a person like me, right?"
Professor Kanye explains the degrees of dopeness
"For me, first of all, dopeness is what I like the most. Dopeness. People who want to make things as dope as possible. And, by default, make money from it. The thing that I like the least are people who only want to make money from things whether they're dope or not. And especially make money at making things as least dope as possible."
We're all just jealous of Prophet Kanye's teeth, duh
"People are going to look at this interview and say, 'I don't like Kanye. Look, he looks mad. I don't like his teeth.' They're gonna say, 'Why doesn't he just focus on music? I liked him as music.' They're gonna say 'Hey, I want the old Kanye, blah blah blah.' But one thing they will do? They will play this interview in five years. They will play this interview in ten years, and say, 'He called that, he called that, he called that…' "
More:
Kanye West - Financial Advisor
Kanye Goes to Kazakhstan - When Musicians Meet Dictators
Who Are These Mysterious Guests Kanye Is Bringing Out For His Tour?
From Our Partners:


40 Most Revealing See-Through Red Carpet Looks (Vh1)


15 Stars Share Secrets of their Sex Lives (Celebuzz)