Turns Out, Canada Is Sick of Justin Bieber, Too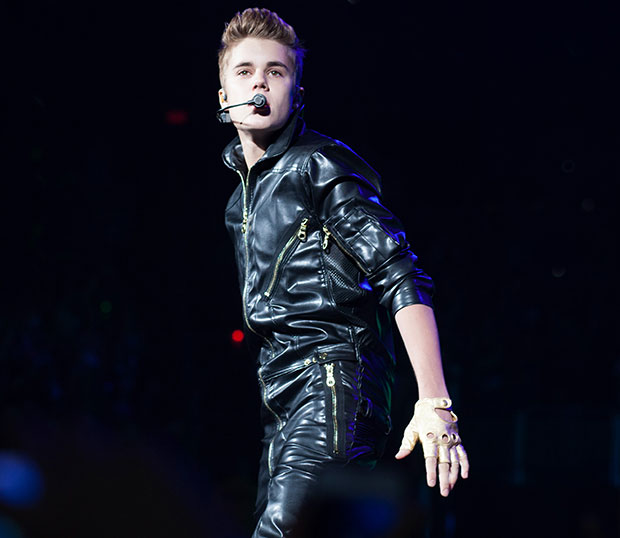 Oh, Canada. Getting a little tired of the golden boy's swag, are we? Justin Bieber was given a chilly reception during his halftime performance at Sunday's Grey Cup (the Canadian Football League's version of the Super Bowl). According to The Canadian Press, fans jeered and booed when Bieber's face appeared on the JumboTron during the game, when Bieber's name was announced at the onset of the halftime show, and when the 18-year-old took the stage for his performance of "Boyfriend" and "Beauty and a Beat." And here we thought Canadians were nice!
Following the performance, a passive aggressive gracious Bieber tweeted (below) his pride for his country and a wish of good luck to both teams in the second half of the game. Bieber's manager, Scooter Braun, also tweeted his support, referring to the jeers as a "challenge," and telling Bieber he did a "great job."
honored to perform for my country. #ProudCanadian . Good luck in the second half. thanks
— Justin Bieber (@justinbieber) November 26, 2012
great job kid! @justinbieber when someone puts a challenge in front of u…u dont run…u knock that #%@# down! GREAT JOB! Great Performance
— Scooter Braun (@scooterbraun) November 26, 2012Bieber's less than jovial welcome came on the heels of a controversy surrounding the outfit the pop star donned this past Friday while receiving the Diamond Jubilee Medal from Canada's Prime Minister Stephen Harper. No one is quite sure why, but Bieber thought it would be a good idea to wear baggy overalls, a dingy white tee, and a backwards baseball cap to receive an award from his country's head honcho. Most people wouldn't wear this to milk their cows or pick up a Slurpee from the local 7-Eleven (or whatever Canada's version of 7-Eleven is).
To help diffuse the tension, Prime Minister Harper tweeted, "In fairness to @justinbieber, I told him I would be wearing my overalls too."
In fairness to @justinbieber, I told him I would be wearing my overalls too. #cdnpoli #beliebers
— Stephen Harper (@pmharper) November 25, 2012
Maybe some of Harper's class rubbed off on young Mr. Bieber.
Follow Abbey Stone on Twitter @abbeystone
[Photo Credit: Bridgette Marie Balmes/Wenn]
More:
Justin Bieber Gets Beat — His YouTube Video, That is
Justin Bieber and Selena Gomez Become One of Those Annoying On-Again, Off-Again Couples
Justin Bieber Pranks the Media, Releases "Beauty and A Beat" Music Video

Chris Brown Makes NSFW Poop-Related Insults, Deletes Twitter Account

'Liz & Dick' Is Bad in the Worst Possible Way: Review