'Unflattering' Jennifer Lopez Photo Sparks Controversy: Should She Be Mad?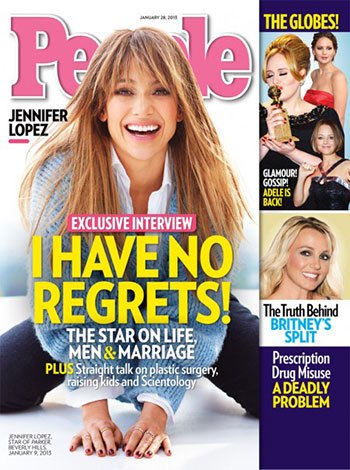 "I Have No Regrets!" But Is She Mad About This Photo?
Jennifer Lopez talks candidly about her much-younger boyfriend, Casper Smart, Scientology, and plastic surgery on the latest cover of People magazine. But it's the cover image that's really making headlines. 
A source told the New York Post that Lopez was "not happy with her photo and that her camp felt like she looked "old and haggard," thanks in large part to the decidedly un-J.Lo-like hairstyle. Some friends even reportedly compared the 43-year-old to a woman nearly twice her age: kooky 70-year-old fashion designer Betsey Johnson (maybe this pose is J. Lo after a cartwheel?). According to the Post's unnamed sources, the singer/actress' handlers called the magazine to complain.
But, now her manager Benny Medina is speaking out, defending the pic and insisting that he — and J. Lo — are happy with the result. "Look at the pictures and read the story," he told Page Six. "We worked closely with the editors of People and we are very pleased with cover photo and the results all around."
What do you think? Should J. Lo be mad? Or does this not-so-glamorous picture actually humanize her? Tell us below!
[Photo Credit: People]
More:
Jennifer Lopez Blindfolds Her Boyfriend & Rubs His Body — PICS
Jennifer Lopez's Right Nipple Craves the Spotlight — Oops!
Finally, We'll Get to See All of Jennifer Lopez in 3D

100 Hottest Women of the Century: Do You Agree?