Unhappy Hour: 'Evil Dead' Red Band Trailer, Azealia Banks' Gay Slur, & 7 More Reasons to Drink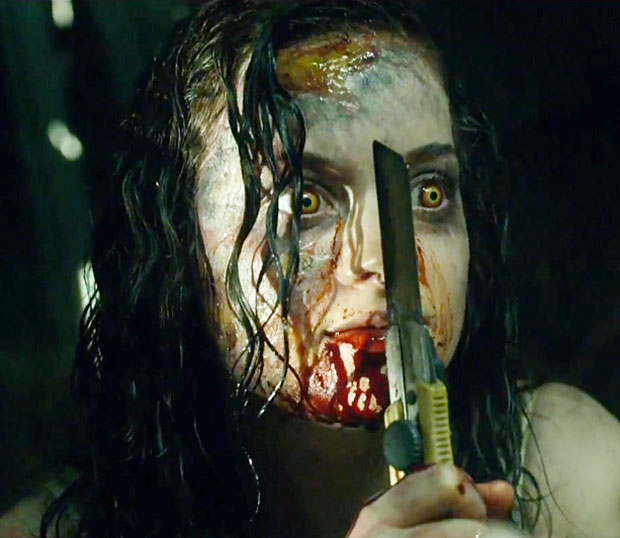 Each week, Hollywood gives us something to whine about, and the week of Dec. 31 was no different. We could make a drinking game out of this week, but that would be too dangerous. Instead, we'll stick to the usual formula: varying levels of alcoholic respite depending on how bothersome the week's issues are. Is your biggest complaint this week a flimsy one? How about a light cocktail to take the edge off? Got a real bone to pick with a celeb or entertainment entity this week? Go ahead, grab a drink that'll put hair on your chest. Here are the week's entertainment stories that are forcing us to seek a bubbly or boozy refuge. And maybe an idea or two about how you should wash them down.
Take the Edge Off With a Little Leftover New Year's Champagne
Matt Damon is ready to replace Ben Affleck.
Did I just crush your whole world? Well, don't feel too crushed, his "replacement" is the infinitely lovable John Krasinski, so it's alright.
Rex Ryan. Seriously? Why? Why is this happening?
I suppose this is how some people deal with failure. The New York Jets coach got a "sexy" tattoo of his wife taking a Tim Tebow pose in a Mark Sanchez jersey. There is a photo. Excuse me while my brain takes a breather.
Surprise, surprise. Late Night wars are still a thing.
Let Loose With a Midday Cocktail (We won't tell anyone)
We haven't yet forgotten about Kathy Griffin's messy New Year's.
Yeah, you know. The part where she tried to give Anderson Cooper a South Pole smooch on national television.
Dammit, America.
We thought we'd worked out our country's strange obsession with Honey Boo Boo, it seemed to have simmered down to its rightful level. Then the New Year strikes and not only is that not true, but we've got another show to redneckignize: MTV's Buckwild.
Frank Ocean joins the legions of celebs being caught with Mary Jane.
Hey, hey, no seriously you guys. Everyone just needs to chill, okay? Chill.
Community Just Lost a Very Important Writer to Modern Family
And that's not great news for the swiftly shrinking crew at Greendale. Man, it's hard to be a Community fan.
Let's Forget This Ever Happened With That Bottle of Rum You Got For Christmas
Azealia Banks stop. Just stop.
Look, we were really stoked about what 2013 would like for you. See? But we didn't bank on you using "foul" language that offended one community, only to turn around and justify the language by offending your own community of women two seconds later… and that you'd put it all on Twitter. Maybe you should pull a Kanye and quit Twitter for a beat or two.
Evil Dead released its red band trailer and we totally watched it. Lobotomy please!
So here's what happened. We saw that there was a red band trailer for this movie, meaning it was worse than the original one that sent us crying home to our mothers. We swore we wouldn't watch it. Then we did and the flowers no longer grow, colors have all turned gray, and the sun no longer shines.
Follow Kelsea on Twitter @KelseaStahler
[Photo Credit: Screen Gems]
More Unhappy Hour:
'The Walking Dead,' The NRA Takes Aim at Movies, and More
Psy's Controversy, The Futterwacken, and Honey Boo Boo
Angus T Jones, 'Girl Meets World' and More

20 Hottest Bikini Bodies of 2012: Katy Perry, Miley and More!