Unhappy Hour Gets Happy (Just This Once): Nine Reasons to Celebrate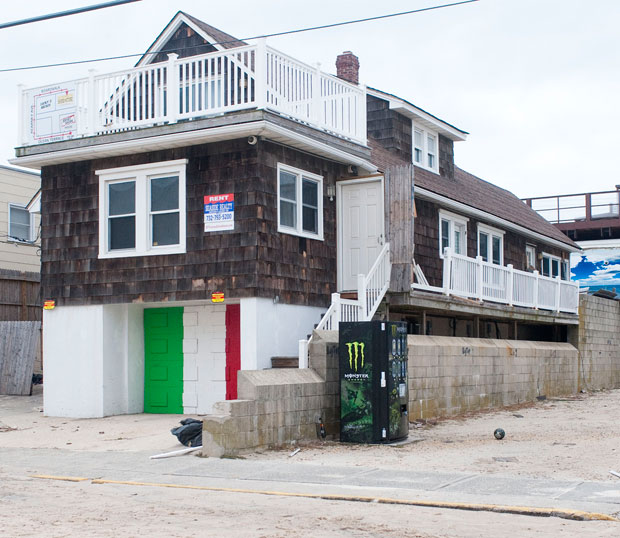 Each week, Hollywood gives us something to whine about. A celebrity does something stupid (hello, Chris Brown's Halloween costume) or a TV show we love gets the ax. Pop Culture can be cruel, but sometimes something happens that makes us realize there are bigger fish to fry. That's why this week, in the wake of Hurricane Sandy's wrath, we're going to put the kibosh on all the whining. It's times like these when we need to celebrate the good things and appreciate the pop culture moments that have helped us escape the harsh reality and smile. So, while we're still raising our glasses, this time, it's in celebration. Let's get a little loose, let those smiles run wild, and give each other a hearty cheers! Despite the tragic events this week, we've still got a few reasons to carry on and return to our normal, happy selves.
Champagne for Everybody!
A Glimmer of Hope Among the Rubble: The Jersey Shore House Survives
New Jersey suffered a tragic fate when Sandy hit its coast, and the destruction was (and still is) devastating. But not everything was lost. The home we all came to know through six seasons of Jersey Shore remains in tact, with a bit of sand piled up in its driveway. Whether or not you're a fan of the show, it's pretty encouraging to know that not all was lost. If that house survived, there have got to be others that did as well.
Halloween Isn't Over Just Yet
Even if you don't live in New York or New Jersey, where Halloween has been rescheduled for Nov. 6, you can still get in on the celebration in solidarity. And if you do, we've got some costume ideas for you.
Most People Are Wise Enough To Know That Donald Trump Is Nuts
When the hurricane hit, Donald Trump used his social media presence to extend his extortion offer to President Obama. Trump gave him almost one extra day to deliver his third grade report card, or whatever it is he thinks will reveal Obama's big bad secret. Luckily for humanity, most people with brains in their heads were outraged at Trump's insensitivity in the midst of a disaster. Sorry, Trump. Obama doesn't have time to look through his file of elementary school finger paintings right now, he's busy helping Americans whose homes were lost in a hurricane.
RZA Not Only Has a Favorite Woody Allen Movie, But It's Not the One About a Threesome
He's got good taste. Good thing, since he's directing movies now.
On Election Night, Good News or Bad, We'll Have a Reason To Giggle
Jon Stewart and Stephen Colbert will be hosting election night coverage, meaning we'll get a little more than numbers and touch screen technology. It worked in 2008, and we're happy to enjoy it again in 2012.
There's Romance on the Horizon on Glee
After all those breakups, Glee is a land of sad realities. Luckily, our own Leanne Aguilera found a scooplet that's sure to make you smile! Good love is on the way…
Redemption is Alive and Well
It used to be that working in pornography was the kiss of death for an actor's career. Now, it seems there are ways to escape the stigma of a job that is widely regarded as bottom of the barrel. Thanks to Taylor Swift and Miley Cyrus, it seems that redemption is available to anyone (who's a wildly attractive person who you'd never realize was a former porn star if someone didn't tell you).
We're Heading Straight Into a Storm of Funny
Because come hell or high water, Louis CK is hosting SNL this weekend. Take that, Sandy!
Finally, We Love New York and the Northeast: A Region Full of Some of the Toughest, Most Resilient People in the Country
Usually, this post takes aim at funny stories from throughout the entertainment world, but this week was a little different. Sure, we've got some great pop culture moments to be thankful for, but the strength shown by the hurricane victims on the East Coast is admirable. Let us all raise a glass to these folks and the people working tirelessly to put it all back together.
Follow Kelsea on Twitter @KelseaStahler
[Photo Credit: Mejia/Asadorian/Splash News]
More Unhappy Hour:

Country Music Association Awards 2012: See the Best-Dressed Stars of the Night (PHOTOS)
(Celebuzz)