Vivienne Jolie-Pitt Earns a Regular Movie Star Salary, It Just Happens to be Huge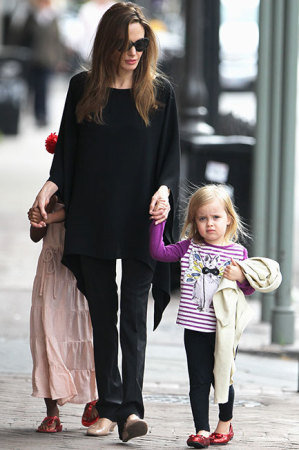 To play young Aurora in Disney's Maleficent, her very first movie, four-year-old Vivienne Jolie-Pitt (offspring of box office power couple Angelina Jolie and Brad Pitt) will be earning a whopping $3,000/week, TMZ reports. Only, it turns out, that's not such a staggering figure. 
While three grand weekly may sound like an exorbitant paycheck for someone who hasn't yet made it to kindergarten (and in the real world, it is), the salary is actually in line with the SAG-AFTRA union guidelines. According to the SAG-AFTRA Theatrical Wage Tables, the rate set for weekly performers between July 1, 2012 and June 30, 2013 is $2,921/week. 
RELATED: Angelina Jolie's Daughter Vivienne Jolie-Pitt to Appear in 'Maleficent'
An industry source confirms for Hollywood.com that the rate is not dependent on age. "There's no distinction upon age. The rates are the same no matter how old you are. You can negotiate for more if you're well-known or a lead actor, but $2, 921/week or $842/day is the bare minimum union rate." 
Our source concedes that the union rate changes based on the movie's budget, but an actor — even a very young one — on a big budget film like Maleficent (which is estimated at $200 million) will certainly be earning the full $2,921. 
RELATED: 'Maleficent': 3 of Angelina Jolie's Children to Appear in Film — Report
Now, the SAG-AFTRA union rate for background actors is much lower — $144/day — but we know Ms. Jolie-Pitt is going to get her closeup. 
Follow Abbey Stone on Twitter @AbbeyStone
Additional reporting by Lindsey DiMattina.
[Photo Credit: CWPA/INFphoto]
---
From Our Partners:

'SI's 25 Sexiest Swimsuit Covers of All Time (Vh1)

Pregnant Kate Middleton Bikini Pics Spark Palace Anger (Celebuzz)